Process Over Outcomes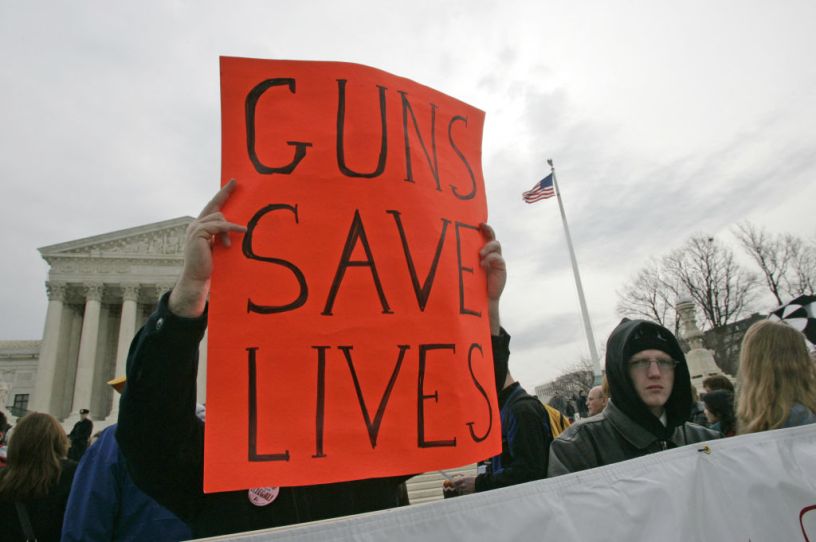 A pro-gun advocate displays a poster on March 18, 2008 in front of the Supreme Court in Washington, DC. (Photo by NICHOLAS KAMM/AFP via Getty Images)
Over the coming months, you can expect to hear a great deal about United States v. Rahimi, the most important Second Amendment case that the Supreme Court will hear in its next term. And what you will hear is that this is a case about whether we take domestic violence seriously. 
It isn't. It is a case about whether we take due process seriously.
Sometimes, it is easier to understand disputes about the Second Amendment if you pretend that they are disputes about the First Amendment. The fact is that many of our progressive friends do not think the Second Amendment should be in the Bill of Rights and do not consider Second Amendment rights true and legitimate civil rights. But if Second Amendment rights can be taken away simply because the right kind of people demand it, then so can the rights protected by the First Amendment, the Fourth Amendment, or any other part of the Constitution. And that is what really is at stake in Rahimi.
Zackey Rahimi is, by all accounts, a real piece of work—"hardly a model citizen" as the Fifth Circuit Court of Appeals put it in an appellate opinion vacating Rahimi's conviction on a federal gun charge. He seems to have been involved in at least five shootings over the course of a few weeks and was accused of assaulting a girlfriend, among other misdeeds. He loves to shoot his guns: He got into a car wreck and shot at the other driver; he shot at a constable's car; he threw a fit and started firing off a pistol when his buddy's credit card was declined at a Whataburger. (This is, to be sure, a Texas story.) If the facts of the case are as they appear—and there is no serious reason to think otherwise—the guy not only has no business owning a firearm, he has no business walking around in the sunshine as a free man.
You're out of free articles
Create an account to unlock 1 more articles