Russell Moore's Diagnosis of Evangelical America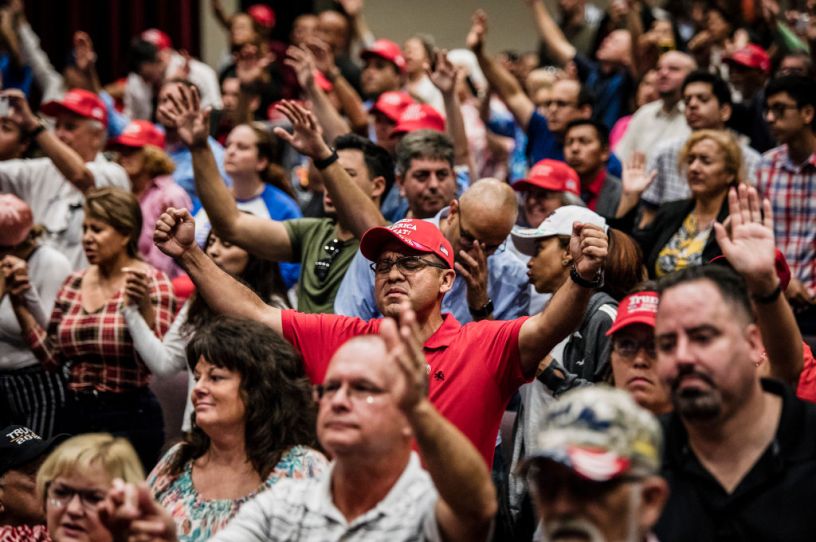 Attendees pray together before then-President Donald Trump addressed the crowd at the King Jesus International Ministry during an "Evangelicals for Trump" rally in Miami, Florida, on January 3, 2020. (Photo by Scott McIntyre/For The Washington Post via Getty Images)
Russell Moore's new book asks all the right questions, and it calls evangelicals to ask all the right questions too: about our own institutions, our own personal integrity, and about a culture largely down on evangelicals.
Losing Our Religion: An Altar Call for Evangelical America isn't the hand-wringing screed some of Moore's harshest critics—of whom there are plenty—probably think it is. Still, he doesn't pull any punches, whether in diagnosing problems within American evangelicalism or in offering pastoral prescriptions at the end of each chapter. Before becoming editor-in-chief at Christianity Today, Moore spent decades as a pastor, seminary professor, and leader in the Southern Baptist Convention. He left his post at the Ethics and Religious Liberty Commission—the SBC's public policy arm—in 2021, and later the denomination itself after it bungled a number of sex scandals. Perhaps most notably, Moore became something of a whipping boy for many in the denomination—and in broader evangelicalism—during the Trump era, because of his vocal derision of the former president and his criticism of how evangelical churches have approached issues like race and politics.
Moore focuses Losing Our Religion on a handful of wider issues in which he sees American evangelicals largely failing to live up to their own theology: credibility, authority, identity, integrity, and stability. He's at his best when he turns particular shibboleths in on themselves, highlighting how they are not only wrong in themselves but also fail to achieve their desired ends.
Take Christian nationalism, which Moore defines as "the use of Christian words, symbols, or rituals as a means to the end of shoring up an ethnic or national identity." Those who carry its banner—such as some January 6 insurrectionists—and back a "politically enthusiastic version of Christianity" or a "religiously informed patriotism" may think they are doing their Christian duty by baptizing the law of the land. But Moore argues they're actually imitating the enemy they seek to fight: "Christian nationalism cannot turn back secularism, because it is just another form of it."