Sanctions Are Freeing Iran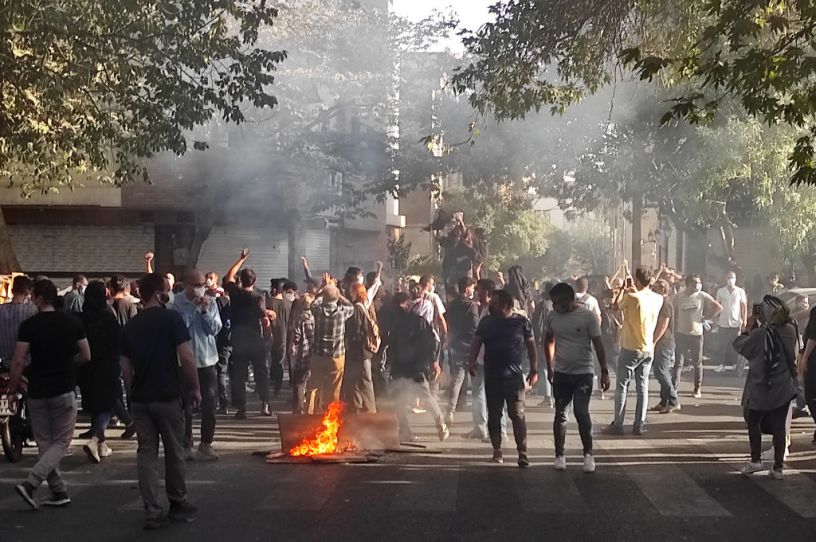 Iranian protesters in Tehran. (Photo by Getty Images.)
Iran was the world's most sanctioned country for many years, at least until Russia invaded Ukraine. Sanctions opponents have long argued that these measures punish the Iranian people more than the regime—a talking point that persists even as the revolt in Iran intensifies. Yet the opposite is true: Sanctions are already helping Iranians exercise more rights.
Objection to sanctions comes from anti-interventionists on both the right and left. In Reason, Bonnie Kristian wrote two months ago that "however these protests go, I do feel confident saying this: They do not vindicate 'maximum pressure,' the onerous sanctions regime instituted by former President Donald Trump … and continued by President Joe Biden to this day." Hoda Katebi, an Iranian-American far-left activist, recently opined in the Los Angeles Times, "To support [the revolutionaries'] cause, we need to demand an immediate lifting of sanctions … so that they can continue to rise up against oppression in all forms." Dylan Williams of the progressive advocacy group J Street tweeted an attempt to expose the alleged hypocrisy of people who support both sanctions and the protesters. In 2018, the Atlantic Council's Holly Dagres repeated a popular left-wing sentiment that withdrawal from the Joint Comprehensive Plan of Action and the reimposition of sanctions would marginalize the reformists and help the hardliners in Iran.
But two things can be and are true at the same time: Sanctions are hurting the Iranian people materially and helping them politically. However much sanctions might be hurting everyday Iranians, they are causing more harm to the brutal regime that oppresses them.
The sanctions' negative effect on the material well-being of Iranians is collateral damage. The only poll conducted of the Iranian people and outside of Iran to circumvent regime censorship also shows that 86 percent of Iranians credit the Islamic Republic as the primary cause for their economic hardships, compared with 10 percent who said sanctions. And they are right. The half-communist, half-kleptocratic, fully corrupt structure of the economy has much more to do with Iranians' economic struggles than the sanctions.