Senate Republicans' Unforced Error on the Capitol Riot Commission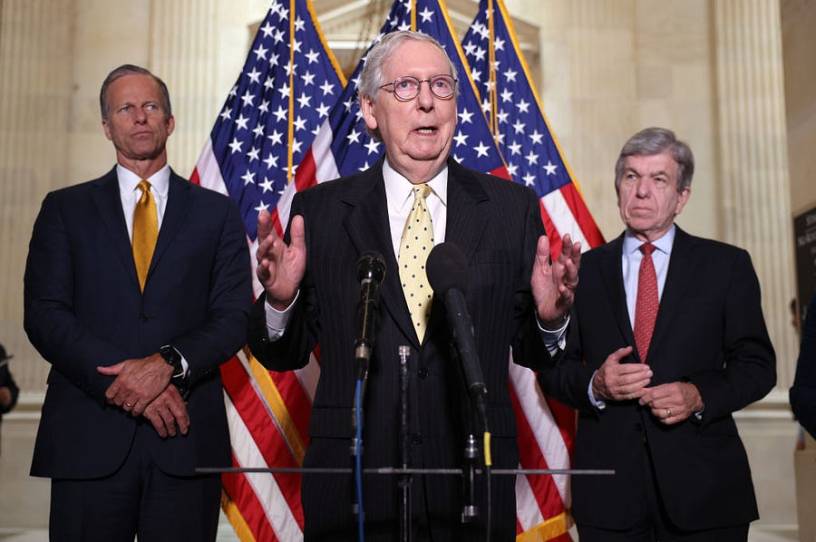 When Senate Republicans voted on the Friday before Memorial Day to block the establishment of a bipartisan commission to study the January 6 attack on the Capitol, friend and foe alike said it was good politics.
As the vote was taking shape, Sen. John Thune, part of the Republican leadership team that helped defeat the measure, said that an independent commission would be a distraction from the GOP's "midterm message." "Anything that gets us rehashing the 2020 elections," Thune told CNN, "is a day lost on being able to draw a contrast between us and the Democrats' very radical left-wing agenda." Plus, Thune fretted, the commission's findings could be "weaponized politically and drug into next year." Alaska's Lisa Murkowski, one of just six Republicans to support the creation of the commission, seemed to agree with Thune's premise as she lamented "a decision for the short-term political gain."
But what if there is no gain?
Senate Republicans managed to kill an independent commission of experts chosen on a bipartisan basis that was required to finish its work by the end of the year. In its place, they will now have a committee of politicians selected entirely by House Speaker Nancy Pelosi. The committee will have no deadline, but will still retain at least a veneer of bipartisanship thanks to Pelosi's inclusion of two Republican members, Reps. Liz Cheney of Wyoming and Adam Kinzinger of Illinois. Even better for Democrats, the committee itself is a powerful tool to divide and distract Republicans. Rather than outsourcing a difficult task to experts, Republicans have hired on loads of new problems for themselves.