The End of 'Stop the Steal'?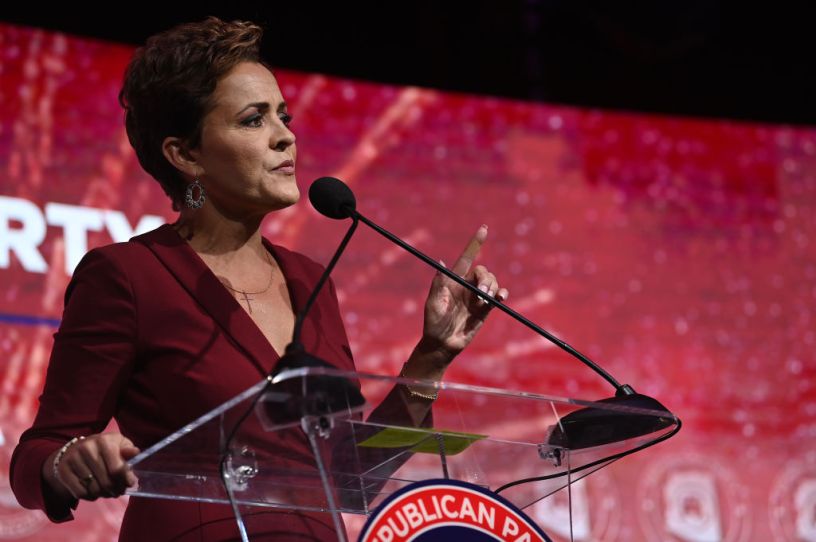 Kari Lake speaks during the Republican Party election night event in Scottsdale, Arizona. (Photo by Joshua Lott/Washington Post/Getty Images.)
The wave election Republicans hoped for never showed up Tuesday night. At this point, the GOP is unlikely to take the Senate and could even fail to capture the House. While the outcomes of races for federal office are important, gubernatorial results offer critical lessons too.
The biggest Republican winner of the night was Florida Gov. Ron DeSantis, who drubbed former Gov. Charlie Crist by a commanding 20 points—the sort of outcome that sets him up well for a possible presidential run in 2024. During DeSantis' victory speech, some in the crowd chanted "two more years!"
In Georgia, Republican Gov. Brian Kemp handily dispatched Democrat Stacey Abrams for the second time. (This time, she even conceded.) On the other side of the coin, Pennsylvania's gubernatorial race saw GOP candidate Doug Mastriano waxed by Democratic state Attorney General Josh Shapiro. Mastriano, who was down more than 12 points with 13 percent of the vote left to count early Wednesday, has said he will wait to concede until all the votes are counted.
While those outcomes were expected, here's one that wasn't: Arizona Secretary of State Katie Hobbs, a Democrat, seems likely to defeat Republican Kari Lake, a newcomer whose star had risen so fast she was already being touted as a possible Trump running mate in 2024.