The Heartbreak of An Immigrant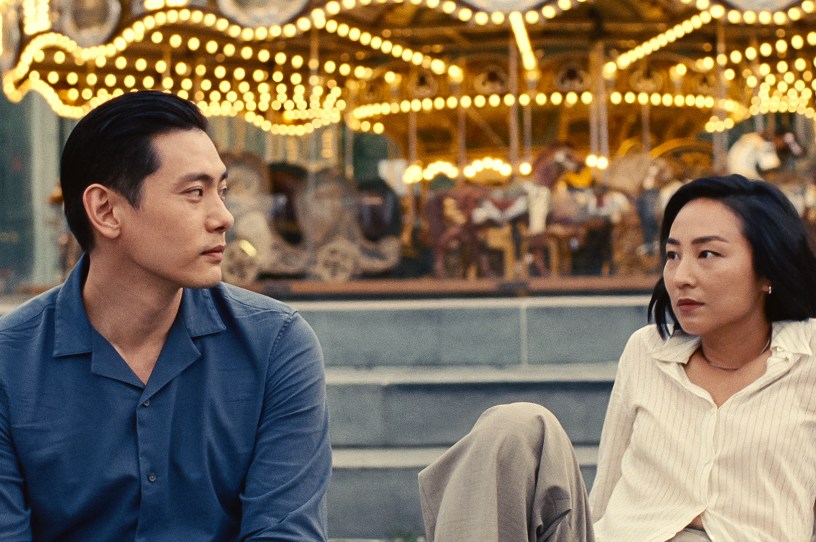 Teo Yoo and Greta Lee in 'Past Lives'. (Photo: Courtesy of A24)
Movies about immigration typically focus on two of its causes: economic hardship or political instability. These are important stories to tell—they depict the often underappreciated accounts of people living through them—but their focus is frequently too narrow. Immigration isn't just about motivations to move or struggles to stay, but about how the process affects someone's personality and closest relationships. Films that center on the macro factors risk flattening the immigrant characters they seek to represent.
Celine Song's debut film, Past Lives, shows a refreshing, alternative approach. The film (now in theaters nationwide) is a beautiful and heartbreaking story of long-lost love, a reflection on the parts of childhood we can neither fully shake off nor truly regain. But it also eschews the predictable politics of immigration and instead doubles down on the fascinating subjectivity of its protagonists.
Past Lives tells the story of childhood sweethearts Nora and Hae Sung, who grew up together in Seoul, South Korea. Their burgeoning tween romance is cut short when Nora's parents decide to move their family to Canada. After 12 years without speaking, Nora and Hae Sung reconnect (thanks, Facebook) and start a long-distance, Skype-dependent bond that eventually withers away. But flash forward another 12 years, and the two finally meet in person. Hae Sung, still in Seoul, has just broken up with his girlfriend. Meanwhile, Nora is … a professional writer, living in New York, and married to her American husband, Arthur, a fellow writer. Nevertheless, Hae Sung visits Nora for a brief week—more than 20 years after they last saw each other in person.
Part of why Past Lives works so well is that it's aware of key complications of modern romance, and it understands how résumé virtues can interfere even with love. In a Skype call during the second stage of the movie, Nora and Hae Sung (played as adults by Greta Lee and Teo Yoo) float the idea of visiting each other. But neither wants to cross the Pacific. He's trying to study Mandarin in China and working on an engineering degree; she has just landed a writing residency in Montauk. Their professional plans come first, and rather than altering those plans, they decide to stop talking altogether.