The Islamic World's Uyghur Silence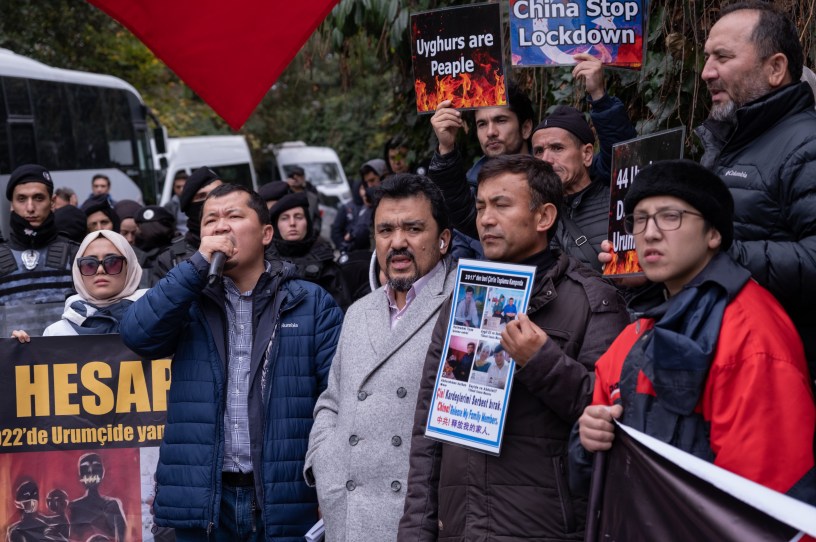 Uyghur demonstrators gather near the Chinese consulate in Istanbul as police watch. (Photo by Charlotte Lawson.)
ISTANBUL—Uyghur exiles have hoped for solidarity from their Muslim brothers and sisters as they've protested persecution by the Chinese government. In Istanbul last week, they instead faced police decked out in riot gear and threats of deportation.
The clash epitomized the growing sense of abandonment Uyghurs feel from Muslim-led countries. For years their pleas for help from the Islamic world in the face of China's long oppression and recent genocide in Xinjiang have largely gone unanswered. Turkey, which hosts one of the largest Uyghur populations outside of China—many of them refugees—has historically been one of the diaspora's most steady allies. But its friendship has been inconsistent.
Protesters arrived outside the Chinese consulate in Istanbul at 5 a.m. last Wednesday, braving the winter chill to draw attention to an ongoing genocide in Xinjiang (also known as East Turkestan to Uyghurs) and the recent deadly fire in its provincial capital of Urumqi. Police soon worked to clear demonstrators from the area, threatening those who refused to comply with deportation—particularly dangerous for refugees fleeing genocide—and escorting stragglers away from the consulate one-by-one. Still, some protesters, including one woman who said she hasn't heard from her three children in Xinjiang for more than six years, sought to break through the police barricades.
"Terrorist China!" the group chanted. "Fascist China! Stop Uyghur genocide!"