The Japan-South Korea Thaw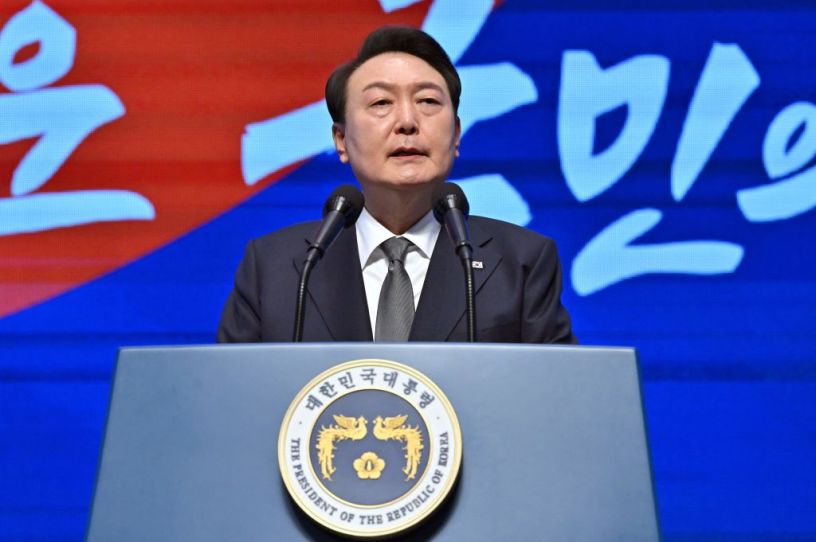 South Korean President Yoon Suk Yeol speaks during a ceremony marking the 104th anniversary of the Independence Movement Day against Japanese colonial rule on March 1, 2023. (Photo by JUNG YEON-JE/POOL/AFP via Getty Images)
Japan and South Korea may finally be moving past the wounds that have colored their relationship for more than a century. If they do, America's position in the Indo-Pacific and the overall stability of the region both stand to benefit.
On Monday, South Korean Foreign Minister Park Jin announced that South Korean companies that received cash from the Japanese government as part of a 1965 normalization treaty would pay damages to the Korean victims of Imperial Japan's forced labor. The step suspended Seoul's previous demands for compensation by Japanese firms—though they can still pay into a trust in a voluntary show of good will—resolving a longstanding point of tension between the two East Asian democracies.
Japan, meanwhile, said it would consider loosening 2019 restrictions on the export of materials vital to South Korea's semiconductor industry. And on Monday, Japanese Foreign Minister Yoshimasa Hayashi affirmed a 1998 joint declaration between the two countries in which Tokyo expressed its "deep remorse and heartfelt apology" for Japan's brutal colonial occupation of the Korean Peninsula from 1910 to 1945.
The leaders of both Pacific powers hailed the carefully choreographed gestures as important steps toward improved ties. A third party said the same: the United States.