The Price of Propaganda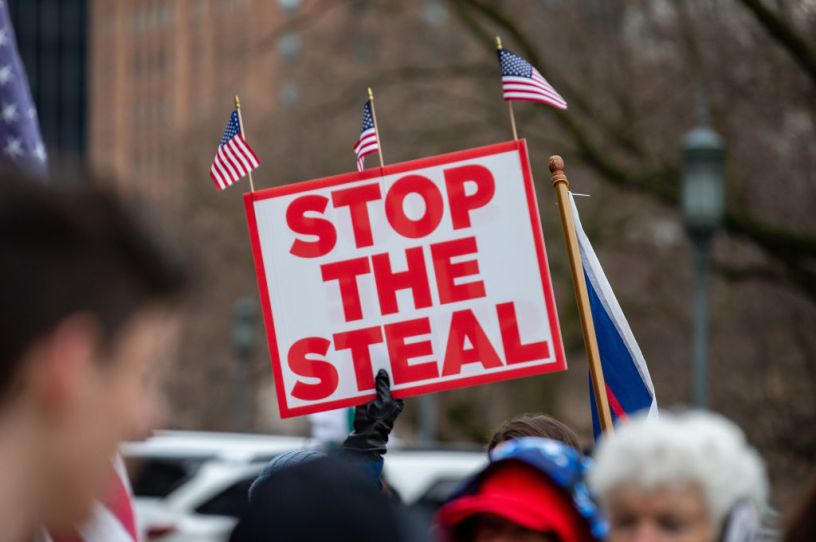 (Photo by Paul Weaver/SOPA Images/LightRocket/ Getty Images)
Earlier this month, Georgia Democratic gubernatorial nominee Stacey Abrams suffered a decisive loss in court in her long-running attempt to cast doubt on her 2018 loss. Abrams, who lost to Brian Kemp by nearly 55,000 votes, never conceded, claiming racially motivated voter suppression. Abrams alleged all kinds of violations of the Constitution and the Voting Rights Act. Nonetheless, U.S. District Court Judge Steve C. Jones (an Obama appointee) ruled against her organization, Fair Fight Action, on all counts.
When reading this, my mind turned to comments made by The Dispatch's own Nick Catoggio, in his farewell blog at Hot Air. Given the current direction of his side of the political divide, he was left with a choice between being dishonest or losing his audience, who wanted him to stop saying negative things about former President Donald Trump. "I preferred to be a traitor than a propagandist," he said. The reason? "Propagandists lie to others, then lie to themselves to justify propagating the original lie. Propaganda rots the brain, then the soul," he wrote.
For years, Abrams and her supporters drove "voter suppression" as an existential threat to bedrock civil rights, even though by no reasonable definition of the term does it describe her loss in 2018. But, they may have thought to themselves, "African-Americans don't vote in high enough numbers due to generations of sins against them, if a little fib helps get more of them registered, it's fine." And also, " Trump was an existential threat to our country, and without this massive push claiming vote suppression, we may be able to register sufficient voters to push Democrats over the top in Georgia."
Indeed, the Abrams propaganda machine was a predecessor and a precursor to a much larger effort by Trump and his supporters. Starting in 2016, powerful people had an incentive to spread an unusual amount of untruth, and did so, believing that it could be contained. "Sure," they might say, "Trump is an arrogant hot-head with a history of shady business deals, who lacks relevant experience, and a moral constitution," but given the stakes, we needed to try. And, they might say to themselves, "We just must do it this once. We can stop later."
Get every newsletter and all of The Dispatch. Support quality, fact-based journalism.
Get Started
ALREADY HAVE AN ACCOUNT? SIGN IN