The Republican Case for Lying Down for Trump Again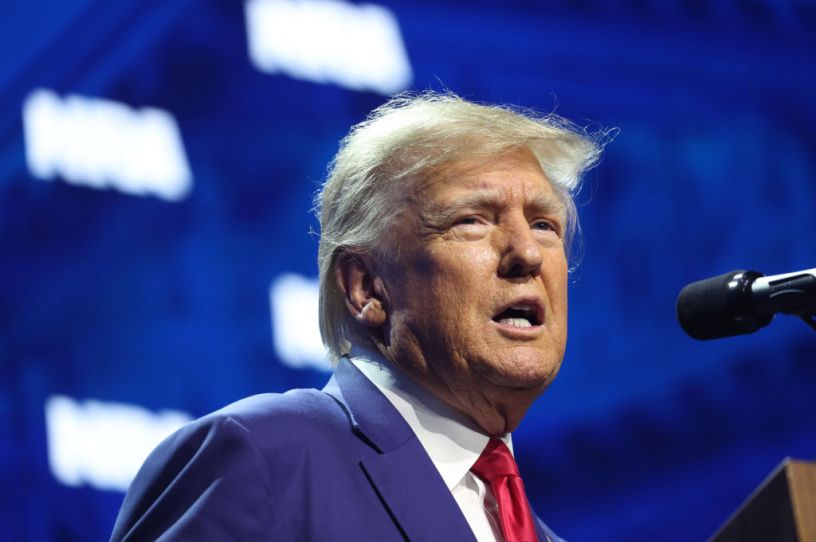 Former President Donald Trump speaks to guests at an NRA event on April 14, 2023, in Indianapolis. (Photo by Scott Olson/Getty Images)
Imagine you're a Republican senator or governor looking glumly at the 18 months to come.
You're wondering the same thing you've been wondering for more than seven years now: Is it worth the trouble of fighting Donald Trump? If there's a bull in your china shop, are you better off to let him roam at will than perhaps doing greater harm trying to chase him out?
The recent burst of endorsements from members of the Republican power structure, including Montana Sen. Steve Daines, chairman of the party's Senate campaign arm, and Tennessee Sen. Marsha Blackburn, suggests that the answer will yet again be to let the bull do as it pleases and hope for the best.
Is a party that couldn't summon the will to convict Trump for sending a mob to the Capitol to try to steal a second term really now willing to endure a painful, protracted nomination fight to try to keep him from joining Richard Nixon as the only men to thrice win the party's nomination? And what if that fight results in Trump bolting the party and playing spoiler next November either as some kind of Bull Moose or just trashing his former team and further alienating his supporters from it?