The Storming of the Capitol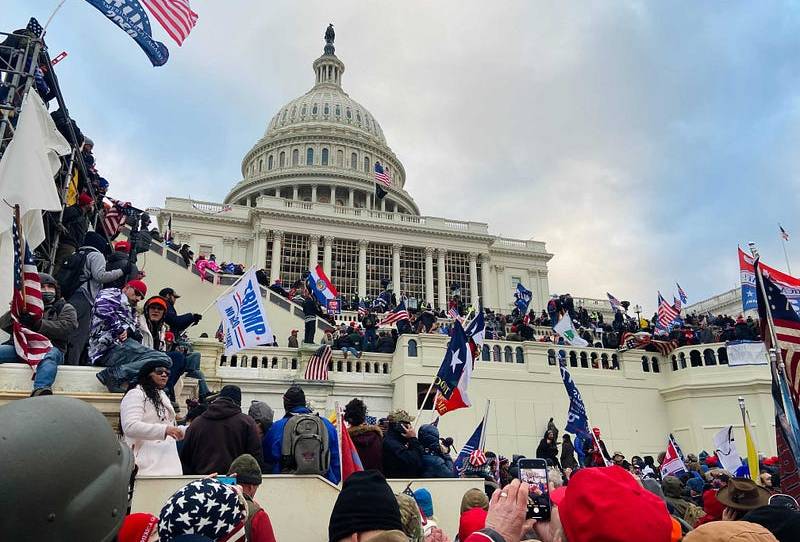 When 2021 dawned, it had been 206 years since the U.S. Capitol was last occupied by a force. As of Wednesday, we're back to counting up from zero.
The anger had been simmering all day. Tens of thousands of Trump supporters assembled on the National Mall for a "Save America March" to hear from Eric Trump, Donald Trump Jr., Rudy Giuliani and Kimberly Guilfoyle, all of whom spoke before yielding to President Trump. Over the course of his hourlong remarks, the president ran through a familiar litany of conspiracy theories and other false claims about the election. His grievance-filled speech, delivered on the Ellipse in front of the White House shortly before noon, contained a single encouragement to nonviolence: He told rally-goers they would soon march to the Capitol "to peacefully and patriotically make your voices heard."
"You actually did something I didn't realize was possible," Donald Trump Jr. had told the crowd earlier. "I'm looking at the crowd of tens of thousands—probably hundreds of thousands of people here—and you did it all without burning buildings? Without looting! I didn't know it was possible!"
Even as he said it, preparations of a different sort were underway on the other side of the National Mall. With the grounds of the Capitol still empty except for the police ostensibly securing them, two men sat in camp chairs in front of the Capitol Reflecting Pool, white paper signs reading "militia recruiter" taped to their seats. They were handing out flyers announcing the organization of a "national militia" that would "occur throughout the morning," members of which would wear silver armbands "signifying that they are lawful combatants." Other paramilitary groups, like the Proud Boys, didn't need signups: They'd arrived fully formed, marching down the Mall to the Capitol shortly before Trump spoke.