There Is More than One 'Big Lie' Shaping the Georgia Election Law Debate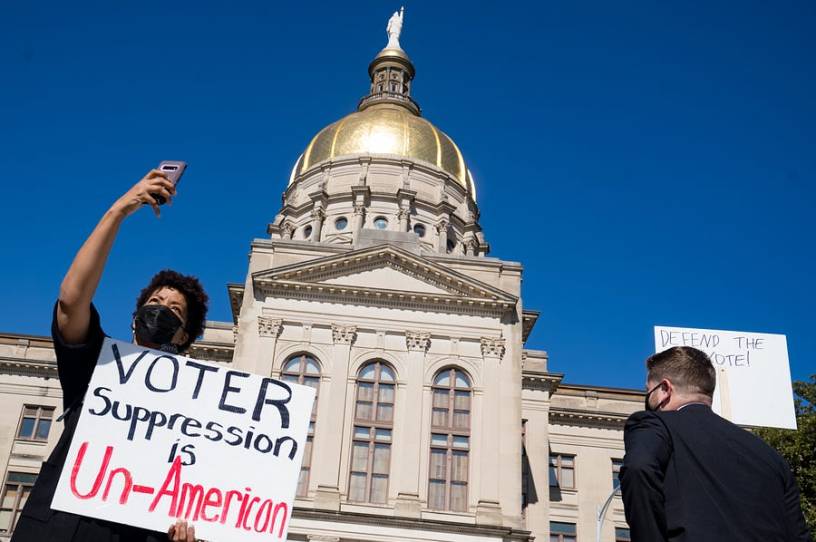 The Georgia debacle is a perfect example of the rolling collective action problem of our democracy. A collective action problem, simply put, is when there is a goal that would benefit everyone—in this case, confidence in our machinery of democracy—but the incentive structure for the individual players makes it impossible to cooperate to reach the goal.
The Georgia electoral mess goes back to the 2018 Georgia governor's race—and every faction in that state has made it worse over the last three years.
Former state Rep. Stacey Abrams ran for governor against then-Secretary of State Brian Kemp, who oversaw the legal but aggressive updating—critics say "purging"—of the voter rolls. Abrams claimed this was a racist attempt to disenfranchise black voters.
When Abrams lost, she refused to formally concede, claiming Kemp had won the election because of "voter suppression." The charge is almost surely false. It was a huge turnout year, including among black voters. Even if all of Abrams' specific claims were true, most experts think it wouldn't have come close to overcoming her losing margin of 55,000 votes. But her claim became gospel among Democrats and liberal pundits.
Get every newsletter and all of The Dispatch. Support quality, fact-based journalism.
Get Started
ALREADY HAVE AN ACCOUNT? SIGN IN