Trump, DeSantis, and Florida as the New GOP Olympus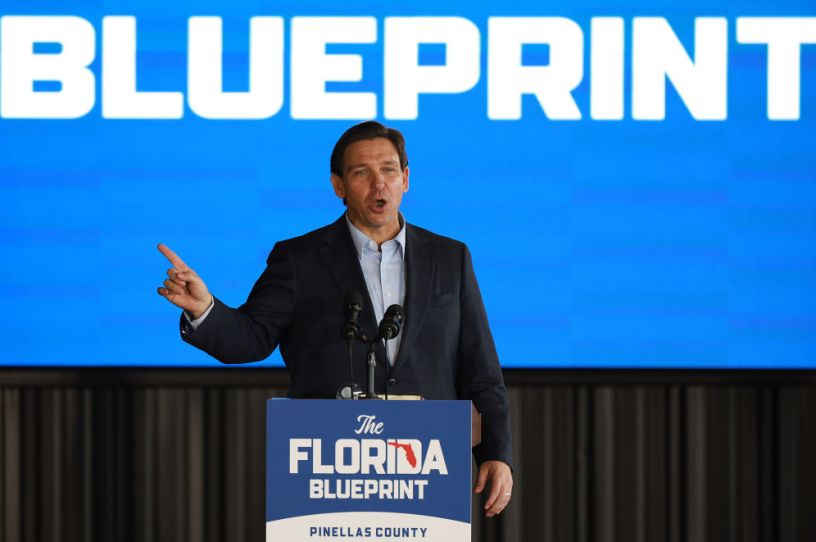 Florida Gov. Ron DeSantis speaks at the Orange County Choppers Road House and Museum on March 8, 2023, in Pinellas Park, Florida.(Photo by Joe Raedle/Getty Images)
Part of the premise in the Percy Jackson children's books is that Olympus, home of the Greek gods, materializes wherever the heart of Western civilization resides. What began near Athens moved to Rome and then Constantinople and then, maybe, Aachen, Madrid, Paris, and London before coming to New York.
We could do the same for America's political parties and their spiritual homes. We could see Democrats going from Richmond to Atlanta before turning north to New York and west to Chicago, and now San Francisco (if it's not already Los Angeles). Up next, Las Vegas?
Republicans, though their party was founded in Wisconsin, started their life centered on the New York of William Seward and Horace Greeley. Then a long stay in Ohio before zooming out to the California coast. After that, and for a few decades, Texas. Now, of course, it's Florida.
Florida looks like the new Republican Party in many ways. It has lots of culturally conservative white folks (the southerners who live in the northern part of the state), older voters (the oldest median age of any of the 39 largest states), and a fast-growing population of Hispanic residents from the Caribbean and South America, whom Republicans see as a key way to offset the party's deficiencies with other minority and immigrant groups.
You're out of free articles
Create an account to unlock 1 more articles