Ukraine Keeps Fighting While Its Allies Ponder More Support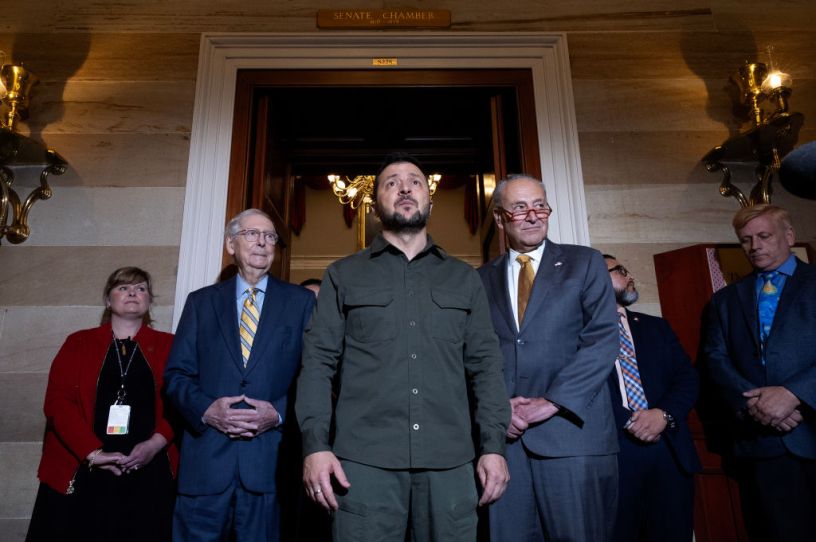 Ukrainian President Volodymyr Zelensky speaks to reporters briefly following a meeting with Senate Minority Leader Mitch McConnell, Senate Majority Leader Charles Schumer and a bipartisan group of senators on September 21, 2023. (Photo by Chip Somodevilla/Getty Images)
While President Volodymyr Zelensky made the case for his embattled country before the United Nations and U.S. officials this week, Ukrainian forces made incremental but hard-fought gains on the front lines. But divisions within Washington and among NATO allies threaten to derail Kyiv's ultimate goal: ridding all Ukrainian territory of its Russian occupiers.
"While Russia is pushing the world to the final war, Ukraine is doing everything to ensure that after Russian aggression no one in the world will dare to attack any nation," Zelensky said from New York on Tuesday. "Weaponization must be restrained. War crimes must be punished. Deported people must come back home. And the occupier must return to their own land."
Yet, nearly 20 months after President Vladimir Putin launched the invasion, international support for Ukraine's defensive war effort is on shaky ground. Within the United States, the Biden administration's fear of escalation and growing Republican scrutiny of U.S. support to Ukraine threaten to derail its efforts to recapture occupied territories. Among Ukraine's NATO backers, divisions remain over how much and what kind of military aid to give Kyiv. Zelensky hopes this trip—and little victories in his country's continued counteroffensive campaign—can change that.
Despite a slow start, Ukrainian forces trying to push out Russian troops have made a number of small but significant achievements in recent months. At several points along the southern frontline, Ukraine has breached the first line of Russian defenses as part of a likely push toward the southern city of Melitopol, and, eventually, the Sea of Azov to cut off the land bridge between Russia and occupied Crimea. The Ukrainian military has also made recent incremental gains near the city of Bakhmut in the Donetsk region—where Russian forces suffer artillery shortages and deteriorating troop morale—and repelled a Russian offensive operation near the eastern city Kupyansk.
You're out of free articles
Create an account to unlock 1 more articles