What Will Ukraine Do With Captured Putin Pal Viktor Medvedchuk?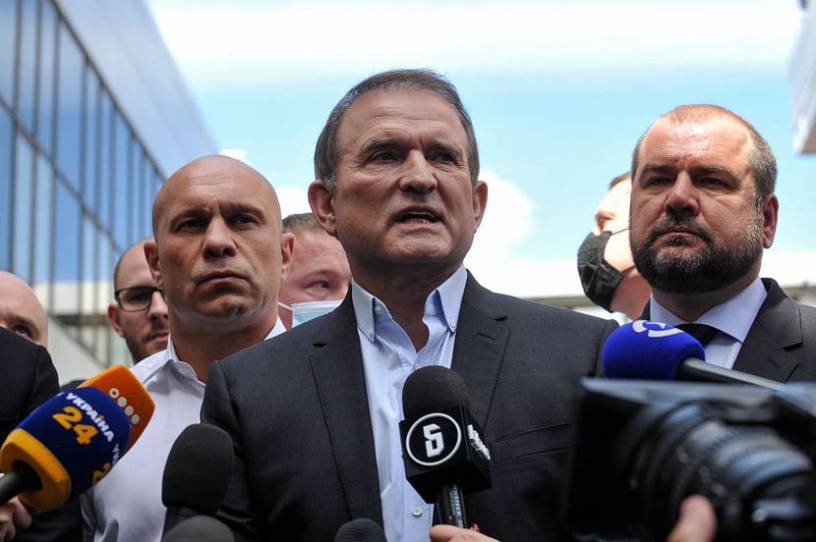 Ukraine has captured Ukrainian opposition politician Viktor Medvedchuk, it announced on Wednesday. Medvedchuk had been under house arrest since May 2021, awaiting trial for accusations of treason and looting Crimea. He escaped in late February, in the early days of Putin's expanded invasion of Ukraine. Since then he has been on the lam, and according to the Ukrainian security services he this week attempted to escape the country masquerading as a Ukrainian soldier. 
Medvedchuk was a likely candidate for the head or éminence grise of a future Russian-controlled Ukrainian government, if Putin's plans succeed. He is a personal friend of Vladimir Putin (Putin is the godfather to one of Medvedchuk's daughters), and it has been said that Putin makes no moves in Ukraine without Medvedchuk's input. According to Medvedchuk, they met in the early 2000s at official events, when Putin had recently become president of Russia and Medvedchuk was the deputy chairman of the Ukrainian parliament. In 2016 Putin was asked about Medvedchuk during one of his marathon interviews, and replied: "Medvedchuk has his own convictions. I think that he is a Ukrainian nationalist, but he does not like this definition. He considers himself an enlightened patriot of Ukraine. But it is no secret that his father was an active member of the [Ukrainian radical nationalist organization] OUN. He has his own system of views on the independence of Ukraine. He, of course, is an ardent supporter of the independence of Ukraine." 
According to some different sources, Medvedchuk's father in reality worked as a Nazi collaborator during World War II, "recruiting" Ukrainian workers for slave labor in Germany. When Putin called Medvedchuk a "Ukrainian nationalist" he likely meant that (unlike Putin) Medvedchuk believes that the Ukrainian nation actually exists and should be a separate state, though in Russia's orbit. Medvedchuk's reported distaste for being called a "Ukrainian Nationalist" is telling: Medvedchuk does not want to be associated with actual Ukrainian nationalists, who tend to be strong on defending Ukraine's sovereignty and encouraging the use of the Ukrainian language. 
In 2013, a year before Russia's war against Ukraine started, a possible leaked Russian white paper titled "On the complex of measures to involve Ukraine in the Eurasian integration process" proposed Medvedchuk as the key player to keep Ukraine out of Europe's orbit and within Russia's. Since the start of war in 2014, Medvedchuk has been trying to worm his way back into power or at least cling on to pro-Russian influence, even while Russian soldiers were murdering Ukrainians. He replaced the old pro-Russian party, the Party of the Regions, with the much more flagrantly over-the-top pro-Russian Opposition Block. Through this party and some TV stations he controlled, Medvedchuk consolidated the fifth column in Ukraine and also spread vile conspiracy theories against the United States, like the slander that America runs a secret bioweapons program in Ukraine that leaks and is responsible for outbreaks of disease there.
Keep reading with a free account
Create a free Dispatch account to keep reading
Get Started
ALREADY HAVE AN ACCOUNT? SIGN IN