Who Needs the MSM?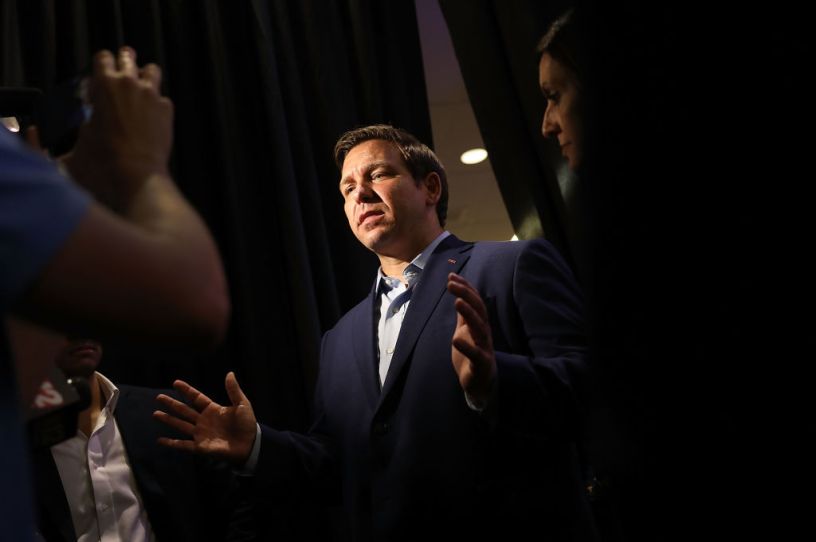 Ron DeSantis speaks to reporters in October2018. (Photo by Joe Raedle/Getty Images)
While he was campaigning for president at a 2000 Labor Day parade in Naperville, Illinois, a hot microphone caught Texas Gov. George W. Bush calling New York Times reporter Adam Clymer a "major league a—hole." The Republican nominee's running mate, Dick Cheney, chimed in: "Big time."
Bush later expressed "regret" that his dig at Clymer, meant only for Cheney, became public. The future 43rd president's communications director on the 2000 campaign, Karen Hughes, explained he was frustrated with the Times scribe's "very unfair" reporting. It was a typical complaint, not without merit, from Republicans at the time: So-called mainstream media outlets covered the GOP unfairly. How quaint.
Nearly a quarter-century later, in the early days of the 2024 contest, relations between the media and the GOP—and the party's committed voting base—have deteriorated such that the nominee for president not only seems destined to experience a similar moment on the trail, he or she is likely to manufacture them for public consumption. Unlike 2016, when the party's White House hopefuls generally played ball with the media, a significant number of candidates could attempt to freeze out mainstream journalists.
"I increasingly hear from my clients that they have no desire to speak to the New York Times, the Washington Post or CNN," said Brad Todd, a Republican strategist in Washington and co-author of The Great Revolt: Inside the Populist Coalition Reshaping American Politics. "Their argument is: Our voters don't care what they write, so why should we care what they write?"
You're out of free articles
Create an account to unlock 1 more articles