Why You Should Visit Iraq (Really)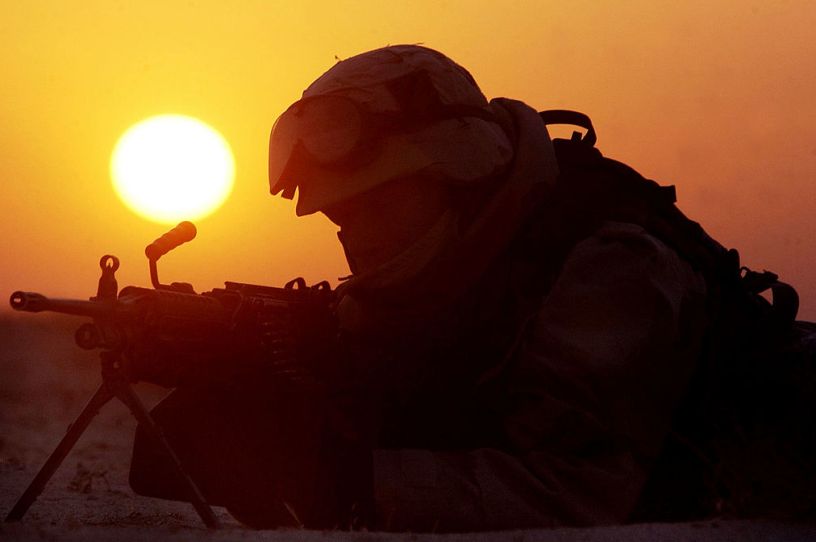 A U.S. soldier mans a frontline position near Karbala, Iraq, in March 2003. (Photo by Scott Nelson/Getty Images)
BAGHDAD—Several years ago I posted a photo on social media of a beautiful sunrise over Karbala, Iraq. A close friend soon responded, "Keep your head down!" I had been sipping tea, in coat and tie, at the Lebanese restaurant on the roof of the Rotana hotel. Why on earth would I keep my head down? Unfortunately, the sense that Iraq is a dangerous, otherworldly place has not diminished among most Americans in the years since.
The truth is, 20 years after the American invasion of Iraq, neither country understands the other very well—even after decades of deeply intertwined history. Both sides are responsible for this tragedy, and it will take both sides deciding they want something different for the situation to change.
A lack of personal contact explains much of this misunderstanding. It is very difficult for an Iraqi to get a visa to fly to the United States. And relatively few Americans choose to visit Iraq, even though visas are now granted on arrival. The State Department maintains a Level 4 travel warning for Iraq—on par with Russia, Iran, and Afghanistan. This deters most Americans from even considering travel to the country. Yet it has been safe—provided you avoid known Islamic State strongholds, which I strongly recommend—for some years now.
Even though more than a million Americans spent time in Iraq since the invasion, few have real Iraqi friends. Likewise, few Iraqis have real American friends. Too few Americans learn Arabic, and too few Iraqis learn English. It remains difficult to move beyond stereotypes and prejudices if you don't have direct experience with people of a different culture.