The End of COVID Politics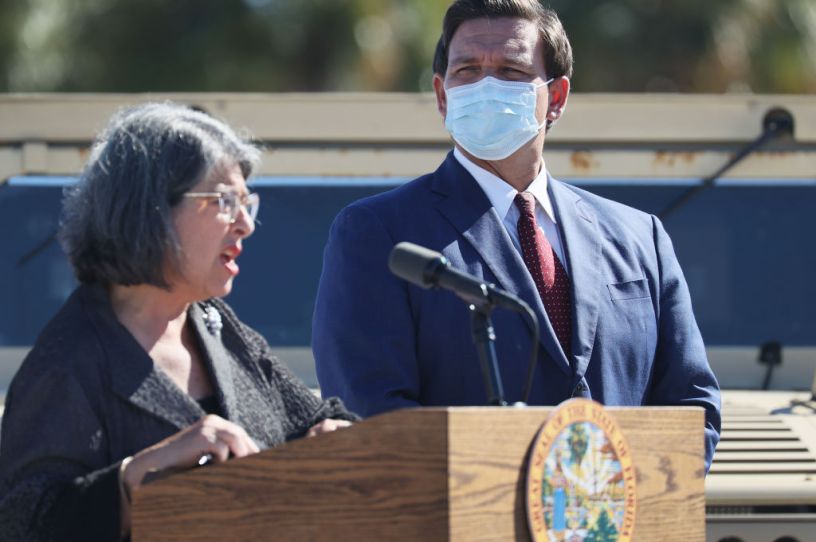 Florida Governor Ron DeSantis listens as Miami-Dade County Mayor Daniella Levine Cava speaks during a press conference about the opening of a COVID-19 vaccination site at the Hard Rock Stadium on January 6, 2021 in Miami Gardens, Florida. (Photo by Joe Raedle/Getty Images)
The tumult, bitterness, and historic import of the 2008 Democratic presidential campaign makes it easy to forget that the top two candidates that year … weren't that different on policy.
The race remained contested through the last day of the primaries, when eventual runner-up Hillary Clinton prevailed over eventual nominee Barack Obama in South Dakota. If you knew nothing about their positions, you might assume from that fact that she and he had basically irreconcilable visions for the party a la Ford versus Reagan in 1976 or Trump versus everyone in 2016. Only a clash of worldviews could divide the left for so many months, one would think.
One would be wrong. The biggest disagreement the neoliberal Clinton had with the neoliberal Obama on domestic policy, as I recall, was whether Americans should be compelled to purchase health insurance under a universal health-care program. (Weird but true: It was Clinton who championed the individual mandate at the time and Obama who opposed it.) The choice between the two mostly boiled down to "vibes." Should Democrats rally behind the would-be first woman president, a technocratic insider with eight years' experience as "co-president," or the would-be first black president, a charismatic young outsider promising drastic change from the Bush administration?
Their "vibes" were distinct but their stances on the issues weren't—with one crucial exception. In October 2002, then-Sen. Clinton voted to authorize the invasion of Iraq. A few days earlier in Chicago, not-yet-Sen. Obama gave a speech declaring his opposition. "I don't oppose all wars," he famously said. "What I am opposed to is a dumb war."