The 'Mean to Mitt' Theory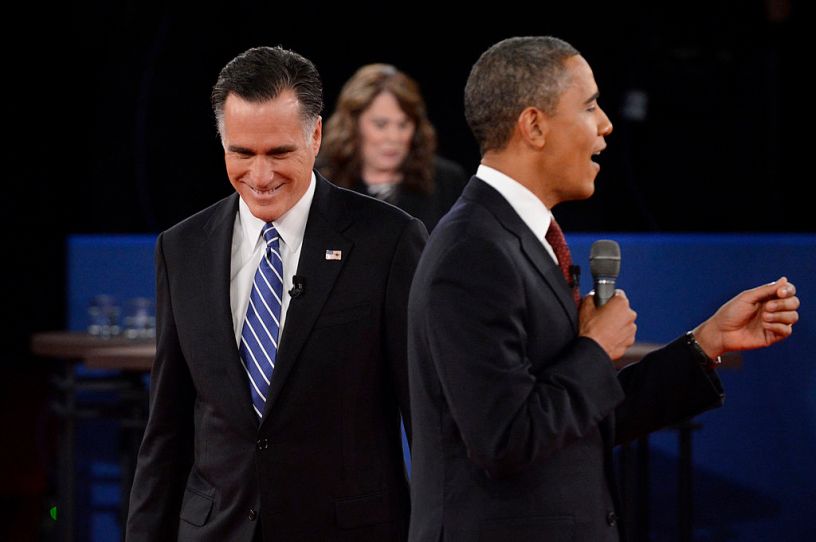 Former President Barack Obama and then-candidate Mitt Romney at a presidential debate moderated by Candy Crowley on October 16, 2012, in Hempstead, New York. (Photo by Michael Reynolds-Pool/Getty Images)
Want an easy way to gauge how partisan a particular conservative is? Ask them whether they endorse the theory that the left being mean to Mitt Romney in 2012 led to the rise of Donald Trump.
Chances are, the more enthusiastically they agree, the more dependably they'll keep voting Republican no matter how rancid the GOP gets.
The occasion of Romney's retirement last week revived the "Mean to Mitt" theory on The App Formerly Known as Twitter, but it's circulated in fits and starts for years. It goes like this: The Democrats and their media allies were so grievously unfair to Romney during the 2012 presidential campaign, and Romney himself was so pitifully weak about challenging them on it, that the right-wing base concluded it had no choice in the next presidential cycle but to hand over the party to a madman.
Anyone who's worked in or around right-wing media over the last decade can quote chapter and verse of the "Mean to Mitt" theory. There was the left's idiotic freakout over Romney's "binders full of women" comment. Harry Reid's repulsive—and false—smear about Romney's taxes. Candy Crowley's lie about Benghazi during a debate with Barack Obama. There were endless vicious shots at Romney's character, of all things—his alleged personal cruelty, his racism, his, ahem, "gaffes."