Memory-Holing the Last Three Years of U.S.-China Trade Policy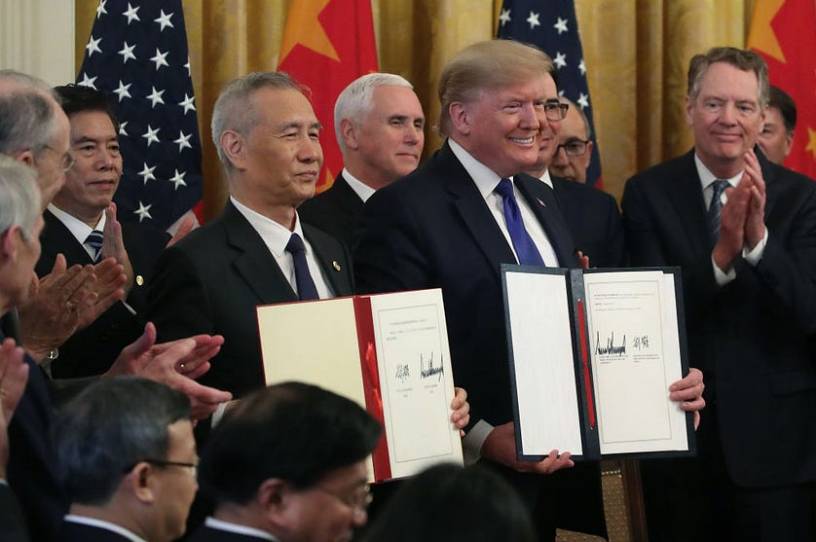 Dear Capitolisters,
One of the most common strategies for political aspirants is to blame incumbents for the disruptions of and imperfections in a market-oriented status quo while promising an amazing-yet-undefined alternative that will never be realized. This has long been the approach of trade-skeptical politicians on the right and the left, and it was practically turned into an art form by Donald Trump who, over the last several decades, blamed anything and everything bad on Japan, NAFTA, China, the World Trade Organization, "trade deals," and "globalization," while promising voters that Trump's unstated alternative would, with super-smart Trump and not those idiot incumbents in charge, easily make the bad things disappear and only good things replace them. The strategy, while cynical, was arguably effective with many Republican voters, given the complexities of international trade policy and that the general, bipartisan consensus for trade and multilateral engagement since the late 1980s often forced American supporters of open markets and the multilateral trading system to rebut such claims with boring discussions of deadweight loss and ancient policies like the Smoot-Hawley tariffs. In short, it's easy to promise a simple "America First" alternative to the messy trade status quo when voters haven't experienced an alternative in a long, long time.
Today, it appears that many Republicans want to continue Trump's approach when accusing Biden and congressional Democrats of being "weak on China" and re-embracing the supposedly obvious failures of past U.S. engagement. (Never mind that neither Biden nor congressional Dems really seem eager to re-engage.) Early 2024 GOP hopeful Tom Cotton, for example, took to the pages of National Review a few weeks ago to blame all sorts of American ills on decades of "economic appeasement with China" (and one of its "oldest architects," President Biden) and to offer a contrasting, hawkish policy of "targeted decoupling"—heavy on U.S. subsidies and restrictions on Chinese imports, investment, and immigration—of the U.S. and Chinese economies. Such actions, Cotton claims, "might dissuade China from its wholesale abuses" and "place us on solid ground for the economic long war that lies ahead." Easy-peasy. Former U.S. Trade Representative Robert Lighthizer embraced a similar strategy a few days later in the New York Times, criticizing an amendment to the U.S. Innovation and Competition Act that would, if enacted, modestly liberalize restrictions on imports from all countries (not just China) and modestly reform the current process for excluding certain goods from Trump's China tariffs. According to Lighthizer, by removing some U.S. tariffs (only a few of which target China), the amendment would "make it easier for Chinese manufacturers to take American jobs and keep the United States dependent on China." By contrast, "to the extent that tariffs might raise consumer prices (which is itself debatable), that is a small price to pay to achieve a strong manufacturing base and secure access to critical supplies." 
It's all so simple and so very Trumpian, and it's unsurprising given Cotton's aspirations and Lighthizer's legacy. While such criticisms may have worked in 2016, however, they suffer today from a critical flaw: We now have three years of evidence of what an alternative China policy—heavy on tariffs and unilateralism, and dismissive of trade agreements and the WTO—actually produces. 
Get every newsletter and all of The Dispatch. Support quality, fact-based journalism.
Start Your Free Trial
ALREADY A PAID SUBSCRIBER? SIGN IN