Trustbusting, #FreeBritney, and the Difference Between State and Corporate Power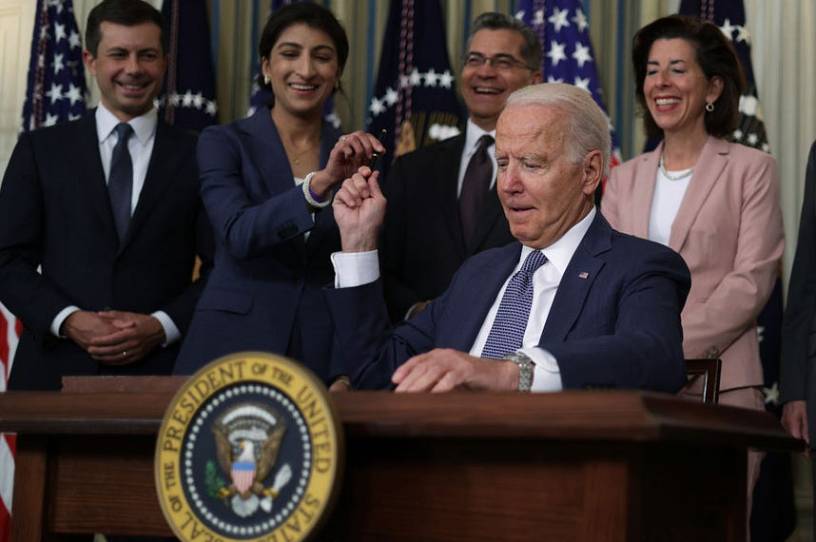 Dear Capitolisters,
As you (hopefully) read in Monday's Morning Dispatch, President Joe Biden late last week issued an extensive executive order "encouraging more than 12 federal agencies to carry out a total of 72 different initiatives aimed at increasing competition and fighting what the White House described as a 'trend of corporate consolidation.'" As your faithful Morning Dispatchers note, the order itself is essentially toothless because it leaves implementation to the targeted agencies through rulemaking and enforcement. But it still should be taken seriously as a strong indicator of the direction the executive branch (and congressional Democrats) wants to move both U.S. competition policy and government power in the next few years—a direction seemingly shared by a lot of Republicans and one that, I think, is troubling.
Competition Policy as a Political Tool
The Biden EO is far too broad to dissect in a single newsletter (even I have my limits). In general, I agree with the TMD analysis and others that see the EO's specific provisions asa mixed bag of good (occupational licensing, over-the-counter hearing aids, etc.), bad (airline WiFi fees, likely farm subsidies, net neutrality, internet marketplaces, retroactive merger review, etc.), debatable (noncompete agreements, drug reimportation, etc.), and unclear or already-happening (shipping fees, hospital prices, etc.). How these specific guidelines are interpreted and implemented will make each of these directives—and what analysts think of them—clearer, but it's going to take some time.
What's already clear, however, is that Biden's EO and related statements are less about offering a coherent and objective economic framework for regulating U.S. corporations and more about proactively using government power for subjective and political ends. Just to be clear: By "political" here I don't necessarily mean winning elections but instead about using government force against disfavored corporations to achieve essentially any economic or social outcome that favored interest groups—consumers, workers, farmers, or even other large companies—desire. Thus, the EO contains "pro-consumer" provisions, "pro-labor" (including pro-union) provisions, and even "pro-business" provisions, the tilt of each depending on the "Big Corporations" and social/political objectives at issue.  At the same time, it ignores startlingly similar phenomena regarding other industries and interest groups that have, for whatever reason, less political salience (in the White House's view).
Get every newsletter and all of The Dispatch. Support quality, fact-based journalism.
Start Your Free Trial
ALREADY A PAID SUBSCRIBER? SIGN IN