Can Mike Pence Make Fusionism Cool Again?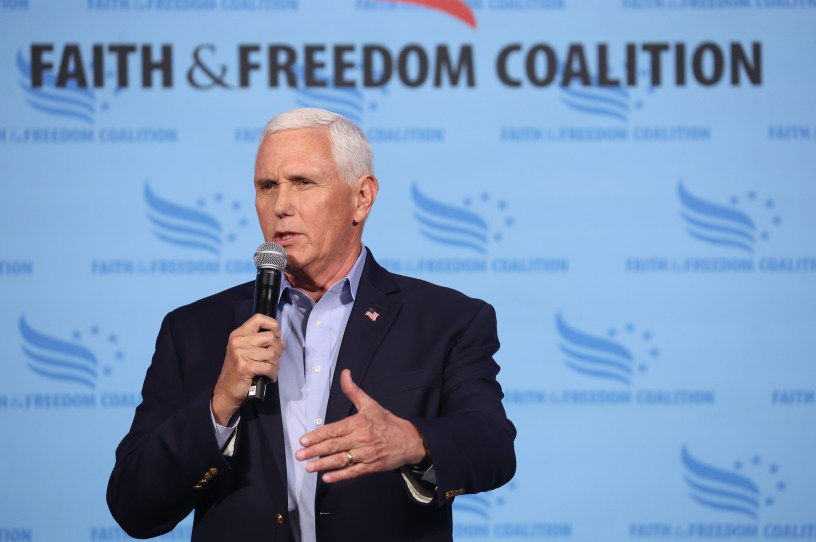 Former Vice President Mike Pence speaks at the Iowa Faith & Freedom Coalition Spring Kick-Off on April 22, 2023, in Clive, Iowa. (Photo by Scott Olson/Getty Images)
Happy Wednesday! If you've always wanted to buy official campaign merchandise of Joe Biden shooting laser beams out of his eyes, have we got good news for you.
Up to Speed
Mike Pence's 2024 Bet: There's Life in Fusionism Yet
Here's the conventional wisdom on the right these days: The Trump era showed that the old conservative policy program—fusionism to its old friends, "Zombie Reaganism" to its recent enemies—is an electoral dead end. But as he mulls a run for president, former Vice President Mike Pence is arguing that rumors of fusionism's death may be exaggerated—even among the MAGA base that supposedly deposed it.
"All I can tell you is, I spoke at more Trump rallies than I can remember—generally just before the headliner," Pence told the Dispatch Podcast in an extensive interview this week. "And I talked about a strong national defense, about American leadership in the world, about standing with our allies, standing up to enemies. I talked about less taxes, less regulation, American growth, fiscal responsibility. I talked about conservatives on our courts, traditional values. And look, I may not be the most scintillating speaker in the world, but the roof blew off every time I talked about these things."
"This is a movement," Pence said, "that I believe in my heart of hearts is still animated by the same things."