Nikki Haley Opposes Discrimination Against Transgender Adults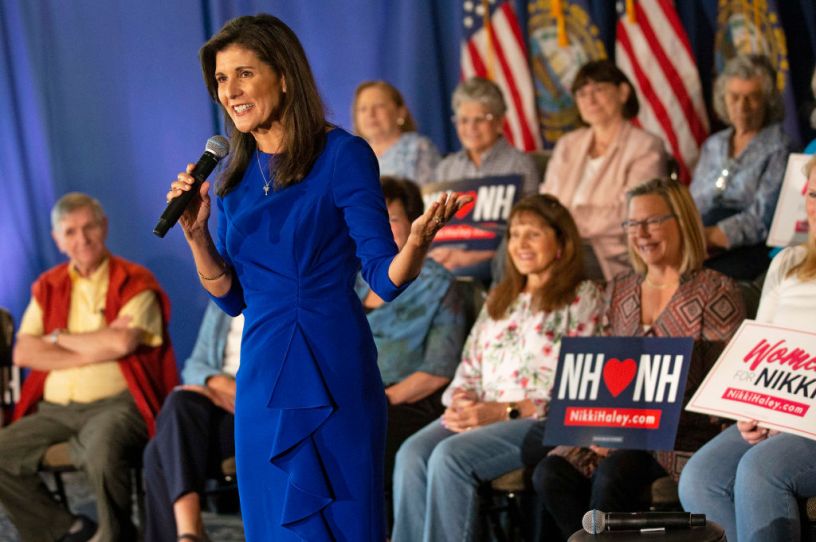 Former Gov. Nikki Haley campaigns in Bedford, New Hampshire on May 24, 2023. (Photo by Matt Stone/MediaNews Group/Boston Herald via Getty Images)
Happy Wednesday! Congratulations to our Dispatch colleague Haley Byrd Wilt on the birth of her baby daughter Zoe—and just days after Andrew Egger's little Ruth came into the world! Time to start selling Dispatch Politics-themed onesies?
Up to Speed
Virginia Republican Rep. Jen Kiggans' reelection campaign raised more than $750,000 in the second quarter of 2023, The Dispatch has learned, bringing her total fundraising haul to $1.3 million during her first six months in Congress. Kiggans, who ousted Democratic Rep. Elaine Luria last cycle and is one of the most vulnerable House Republicans on the ballot in 2024, now has more than $1 million dollars in cash on hand going into the second half of the year.
In a million-dollar effort to make the RNC presidential debate stage, billionaire North Dakota Gov. Doug Burgum is offering a $20 gift card to each of the first 50,000 people to donate at least $1 to his campaign. "We're not asking for money. We want to SEND YOU MONEY," reads a campaign email. Burgum needs 40,000 unique donations to qualify for the first Republican presidential debate in August.
Entrepreneur and Republican presidential candidate Vivek Ramaswamy is launching a program to pay grassroots supporters 10 percent of any money they raise for his campaign, according to Politico. Participants will be issued an affiliate link to share with their friends and other potential donors. Ramaswamy has already qualified for the debate with more than 60,000 unique donors.
Bob Vander Plaats, CEO of The Family Leader and a social conservative kingmaker in Iowa politics, tweeted on Tuesday that former President Donald Trump will not attend his organization's Friday summit, an influential gathering of conservatives in Iowa. Candidates expected to attend include Florida Gov. Ron DeSantis, former Vice President Mike Pence, South Carolina Sen. Tim Scott, former South Carolina Gov. Nikki Haley, entrepreneur Vivek Ramaswamy, and former Arkansas Gov. Asa Hutchinson. Each will be interviewed by former Fox News host Tucker Carlson.
In a Truth Social post Monday, Trump criticized Iowa Gov. Kim Reynolds for withholding her endorsement in the state's first-in-the-nation GOP presidential caucuses despite receiving Trump's endorsement in 2022. Trump and his advisers have privately complained about Reynolds' proximity to Florida Gov. Ron DeSantis, the New York Times reports. In response to Trump's public criticism, several GOP candidates, including DeSantis, have come to the governor's defense, and the former co-chairman of the Iowa Republican Party said, "I'm out on the former President. It's time for fresh leadership or shall I say actual leadership."
Win it Back, a new group associated with the anti-tax Club for Growth, launched a $3.6 million television ad campaign on Tuesday in Iowa and South Carolina to hurt Trump in early-state and national polling, Politico reports. Another conservative group, Americans for Prosperity, is also expected to spend heavily against Trump, recently announcing it has raised more than $70 million.
Hundreds of ostensibly grassroots left-wing activist groups across the country are centrally controlled by Arabella Advisors, a for-profit and billionaire-funded consultancy based in Washington, D.C., the Washington Free Beacon reports. Arabella has indirectly funded countless "pop-up" groups in support of liberal causes through what the Free Beacon describes as "the Left's dark-money network."
"Joe Biden should not be dragging us further toward World War III by sending cluster munitions to Ukraine," Trump said in a social media post on Tuesday. Biden made what he described as the "very difficult" decision to send cluster munitions to Ukraine until the embattled nation could resolve its shortage of conventional artillery shells despite humanitarian objections. In contrast to Trump, both Haley and Pence have said Biden was too "slow" to provide cluster munitions.
Nikki Haley Advocates 'Equality' for Transgender Adults
HANOVER, New Hampshire—Nikki Haley says she opposes discrimination against transgender adults and as president would not support policies that ban them from military service, teaching, or other public-sector employment.
"I'm a freedom fighter, so at the end of the day, I don't mind how anybody chooses to live," the Republican contender tells The Dispatch in an interview. "They should have every freedom and every equality as anybody else."
Like most in her party seeking the White House, Haley objects to public school curricula that teaches students about the range of potential gender identities that may vary from an individual's biological sex. The former South Carolina governor, a married mother of two adult children, especially takes issue with public school policies that involve encouraging students to explore their own gender identity, or facilitate their access to gender-transition treatments without parental consent.