Rivals Ding DeSantis on Disney Dispute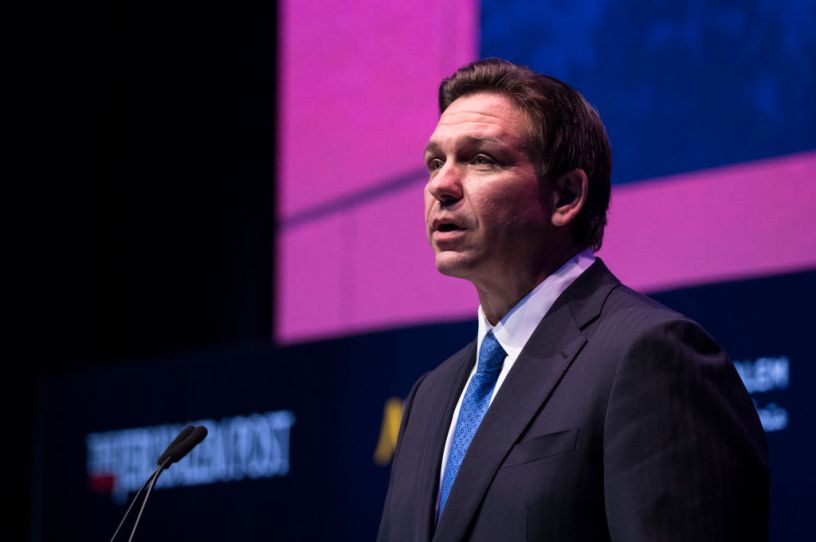 Florida Gov. Ron DeSantis gives a speech during the Jerusalem Post conference April 27, 2023. (Photo by Amir Levy/Getty Images)
Happy Monday! We hope you're having a better day than the congressional intern who got dumped last week in a Senate elevator. Danny Jativa, a staffer for Sen. Tim Scott, witnessed the tragic scene: "People kept piling into the elevator as it stopped on every floor. The poor fella started breathing more heavy. We finally got to the basement where I exited so I could buy my much deserved Snapple."
Up to Speed
Will DeSantis' Disney Fight Hurt Him?
Ron DeSantis has made his crusade against Disney's "woke ideology" a signature issue, but some of his likely 2024 opponents see a chance to make it a political liability for the Florida governor.
Former President Donald Trump jeered that DeSantis "is being absolutely destroyed by Disney" and derided his anti-Mickey moves as "a political STUNT." Last week, former U.N. ambassador and former South Carolina Gov. Nikki Haley followed suit, suggesting that Walt Disney World should move from Florida to South Carolina—a state that is "not woke, but we're not sanctimonious about it either."
But DeSantis hasn't shied away from the Disney conflict, which he mines for applause in speeches and doubles down on at every chance while speaking to reporters. As he gears up for an expected White House run, DeSantis is betting Republican voters will reward him for his willingness to go after huge targets in a culture war between traditional values and progressive standards of corporate America.