Ron DeSantis Sharpens Attacks on Trump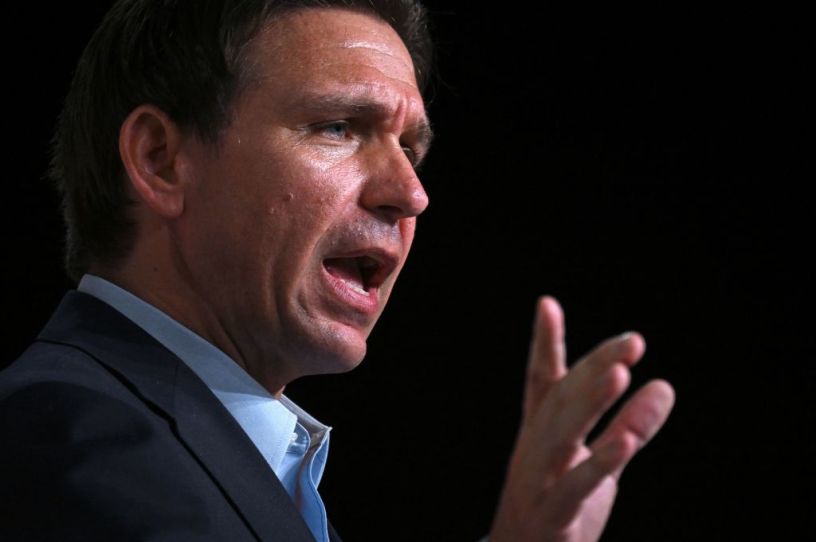 Ron DeSantis speaks during his campaign kickoff event at Eternity Church in Clive, Iowa, on Tuesday. (Photo by ANDREW CABALLERO-REYNOLDS/AFP via Getty Images)
Happy Wednesday! Gary Leffler, a Republican activist from Iowa, told the Washington Post this week he was trying to lure the Trump and DeSantis campaigns into competing for his endorsement. "We don't really look at it as a bidding war as much as my wife and I are praying and want to make sure we would feel comfortable in the direction," Leffler said. "We've been very up front with both campaigns: We're not doing it for free."
Leffler later walked back his comments—but if you've got anything else you want to get off your chest, Gary, you know where to find us.
Up to Speed
With an early-June deadline fast approaching, House Speaker Kevin McCarthy and President Joe Biden struck a tentative deal over the weekend to suspend the debt ceiling for two years while curtailing some future federal spending. The bill is expected to pass the House Wednesday, even with some Republican fiscal hawks opposing the deal for not cutting enough.
Former New Jersey Gov. Chris Christie will announce his presidential campaign Tuesday at an evening event in New Hampshire, Axios first reported and The Dispatch confirmed. Allies of the governor are standing up a new super PAC, Tell It Like It Is, to support the campaign, which plans to focus its attacks on former President Donald Trump.
Ohio Rep. Warren Davidson told supporters Tuesday he plans to seek reelection rather than run for the U.S. Senate. The conservative Club for Growth had courted Davidson, a member of the House Freedom Caucus. The race to challenge Democratic Sen. Sherrod Brown has so far attracted state Sen. Matt Dolan and businessman Bernie Moreno; Secretary of State Frank LaRose has made moves to prepare for a run but has not yet announced.
The Texas House voted 121-23 Saturday to impeach state Attorney General Ken Paxton, accusing him of bribery, obstruction of justice, and breach of public trust. A defiant Paxton, who has been suspended pending a Senate trial, accused his impeachers of sabotaging his ongoing legal fights against "Biden's extremist agenda"; he has retained the support of a number of prominent national Republicans, including former President Donald Trump and fellow Texan Sen. Ted Cruz.
DeSantis Expands Offensive Against Trump
CLIVE, Iowa—Is any Republican going to attack Donald Trump? Ron DeSantis is.
During a news conference in suburban Des Moines Tuesday evening after his first campaign rally as a presidential candidate, DeSantis repeatedly fielded questions about Trump, who has been carpet-bombing his former ally for months. What about Trump's criticism over DeSantis' fight with Disney? What about his claim that former New York Gov. Andrew Cuomo had handled the coronavirus pandemic better than the Florida governor? Did DeSantis hope to win evangelicals away from Trump?
You're out of free articles
Create an account to unlock 1 more articles