T-Minus One Month Until the First Republican Debate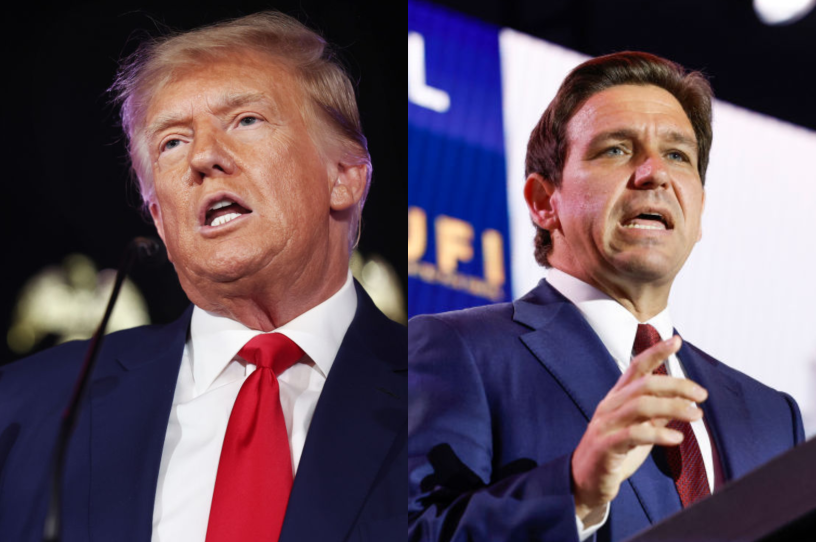 (Photo of Donald Trump by Mario Tama/Getty Images. Photo of Ron DeSantis by Anna Moneymaker/Getty Images)
Happy Monday! Are you looking for an exciting new opportunity to take a leadership role in a small organization with potential for growth, all while living in a paradise on Earth? The Hawaii Republican party is seeking a new chairman after its most recent one resigned—the third chair to do so this year.
Up to Speed
Republicans Prepare for First Debate Next Month
As of Sunday, the first debate for the 2024 Republican presidential primary is a month away. At the moment, six White House hopefuls have claimed to have passed the fundraising and polling thresholds set by the Republican National Committee to qualify for the debate: former President Donald Trump, Florida Gov. Ron DeSantis, businessman Vivek Ramaswamy, former U.N. Ambassador Nikki Haley, Sen. Tim Scott of South Carolina, former New Jersey Gov. Chris Christie. Gov. Doug Burgum of North Dakota says he has raised money from at least 40,000 unique donors, but he has yet to hit 1 percent or more in at least two qualifying national polls and two qualifying state polls from different states.
Each of the qualifying candidates have indicated they will show up in Milwaukee on August 23—except for Trump. "Ronald Reagan didn't do it, and a lot of other people didn't do it. When you have a big lead, you don't do it," he told Fox Business host Maria Bartiromo last week. (It's not really clear what Trump is referring to, since Reagan did debate his primary opponents in the 1980 cycle. Reagan did not do so in 1984, when he was the incumbent president and faced nothing more than token opposition for the nomination.)
Despite this, Trump added in his interview with Bartiromo, "I haven't really made up my mind." When asked by The Dispatch if Trump has made a decision about it since then, campaign spokesman Steven Cheung simply referred back to the former president's recent comments.