The House GOP Is Reaping Exactly What It's Sown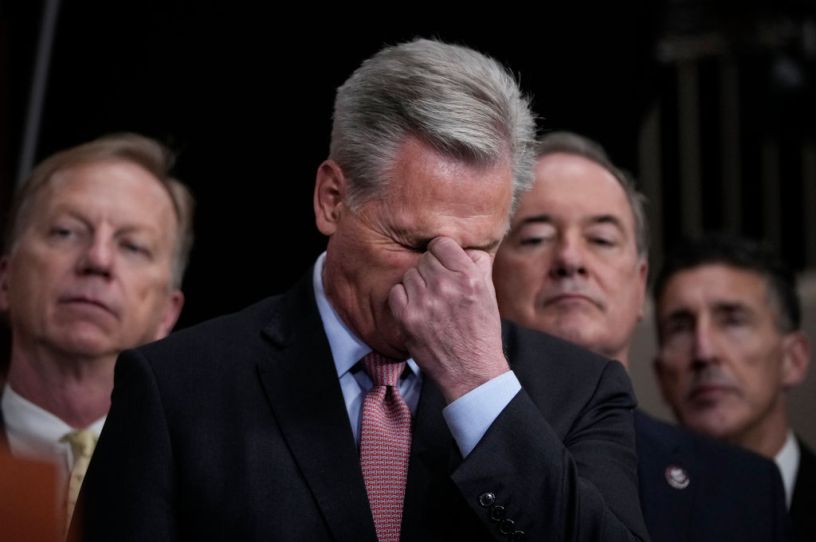 House Majority Leader Kevin McCarthy's bid for Speaker of the House has been significantly complicated by a handful of intransigents among the Republican caucus (Photo by Drew Angerer / Getty Images.)
This isn't going to be my usual Tuesday newsletter—mainly because it's not a usual Tuesday. Earlier today the New York Times announced that I'll be joining the paper on January 30 as their newest columnist. I'm incredibly honored and grateful for the opportunity. Indeed, if you told my young self that one day I'd be writing in the very pages that I've read religiously for as long as I can remember, I'd be shocked. I wouldn't even know how that could happen.
At the same time, this news almost defines the term bittersweet. I love The Dispatch. I love what we're building here. Steve and Jonah have assembled an incredible team, and it's been an honor to play a small part in The Dispatch's founding years. We started with a half-full conference room and big ambitions. We've outgrown conference rooms. We have a talented staff that's putting out some of the best reporting and commentary in the business.
I would say that The Dispatch is exactly what I imagined it would be, but that's wrong. It's better. Much better.
What does this mean for me? My writing will be at the Times, and I'll do all the things that Times columnists do, including appearing in podcasts and other multimedia ventures, when asked. At the same time, I'm still going to maintain a toehold at The Dispatch. Sarah is taking over my hosting duties at Advisory Opinions, but I'm still going to be right there with her, trying to make sense of the law and doing what I can to keep the classical-liberal torch lit in the conservative legal movement.