Time to Hide the Sausage-Making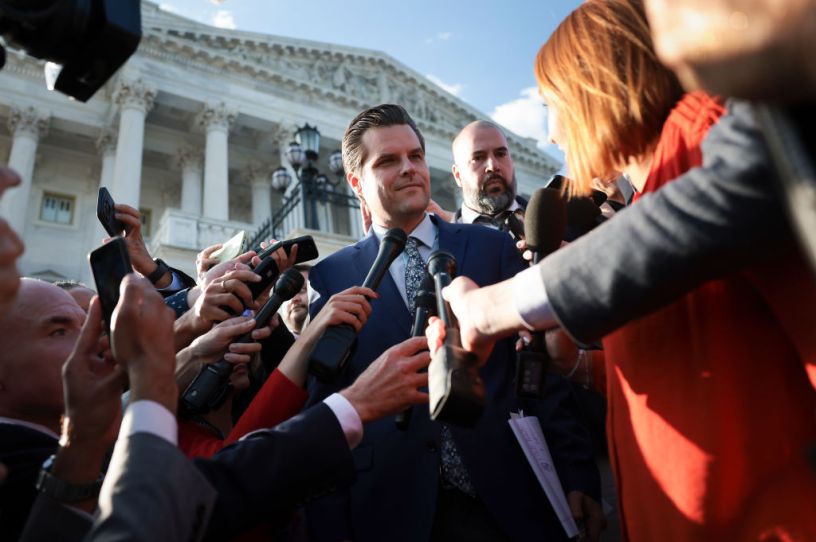 Rep. Matt Gaetz answers questions outside the U.S. Capitol after successfully leading a vote to remove Rep. Kevin McCarthy as speaker of the House October 3, 2023, in Washington, D.C. (Photo by Win McNamee/Getty Images)
Hey,
So, we spiked my Los Angeles Times column for The Dispatch this week because events moved so fast—Kevin McCarthy's out as speaker, in case you haven't heard—that there was no time to update it.
But let me start where I left off. I think it's a useful exercise to ask how things would have gone yesterday if the vote on the motion to vacate (MTV)—i.e. fire McCarthy—was done via secret ballot. (That's how they did it for the half-century after 1789.)
I assume Gaetz would still have wanted his MTV and would have gotten his vote because of the stupid decision made last January to lower the threshold for the maneuver to a single member. McCarthy's decision to use Democratic votes to prevent a government shutdown would trigger a Gaetzian attack no matter what. And I suspect he could have gotten most of the eight votes to remove McCarthy. Heck, it's possible the GOP vote tally for removal could have been much larger (would Elise Stefanik vote to keep McCarthy on the island if no one knew how she voted?). But I suspect the Democratic tally to keep McCarthy in office would be larger than zero. That's not because many—or any—Democrats like McCarthy all that much (I don't mean personally, he's a great schmoozer). But I think a good number of them hate Gaetz more and don't want to reward his schtick. The problem for moderate Democrats is that they're almost as afraid of their zealots as moderate Republicans are afraid of theirs. Publicly voting for McCarthy to remain speaker is a surefire way to get primaried by a Squad type.