The Morning Dispatch: 'Hurricane Governor' Jeb Bush on Governing in a Crisis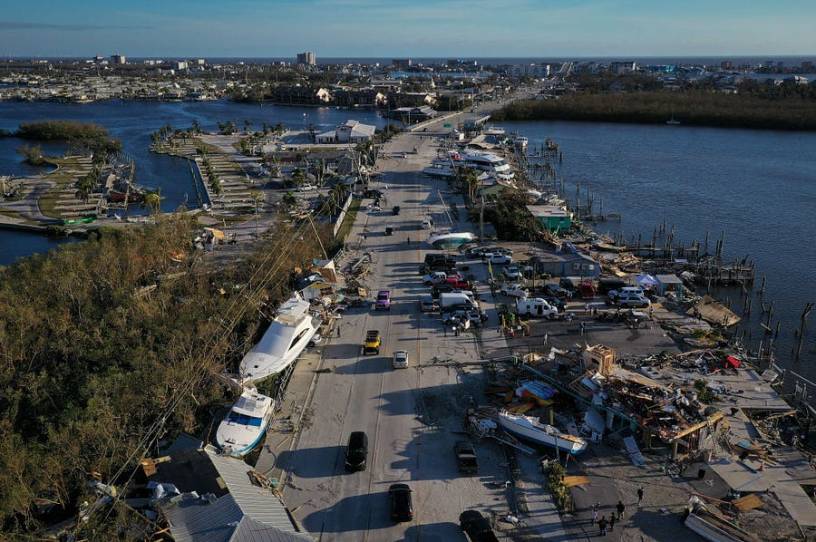 Happy Friday! Pour one out for—we swear this is his real name—Frankie Lasagna, the restaurateur and Toronto Blue Jays fan who on Wednesday night was inches away from catching Aaron Judge's historic 61st home run of the season. The ball would have been worth hundreds of thousands of dollars.
"I would never ever bring a glove [to the game] other than this situation," Lasagna said. "I needed a bigger one."
Quick Hits: Today's Top Stories
Hurricane Ian weakened to a tropical storm on Thursday as it dumped rain across the Florida peninsula, but began intensifying again over the Atlantic Ocean and is expected to make landfall near Charleston, South Carolina, as a Category 1 hurricane this morning or early afternoon. More than 2.1 million homes in Florida were without power Friday morning, and the storm's official death count stands at 12—but it's expected to rise well beyond that. President Joe Biden suggested yesterday his team was hearing early reports of "substantial" loss of life that could make Ian the "deadliest hurricane in Florida's history," while Gov. Ron DeSantis described the storm as "basically a 500-year flood event" that "changed the character of our state." The National Hurricane Center warned residents of Florida, Georgia, North and South Carolina, and Virginia they could see effects of the storm this weekend, and Biden on Thursday approved emergency declarations for South Carolina and Florida.

The Department of Education announced Thursday it was scaling back the scope of President Biden's student loan cancellation plan, now excluding borrowers with federal student loans held by private entities—including Federal Family Education Loans or Federal Perkins Loan Program loans—from accessing the debt forgiveness. The tweak is expected to affect millions of borrowers otherwise eligible for the program, and is almost assuredly an effort to head off mounting legal challenges. U.S. District Court Judge Richard Young on Thursday denied a request from the Pacific Legal Foundation for a temporary injunction blocking Biden's proposal, but the PLF made clear it will file an amended complaint. Republican attorneys general in six states—Nebraska, Missouri, Arkansas, Iowa, Kansas, and South Carolina—also filed a lawsuit seeking to block Biden's action from going into effect.
You're out of free articles
Create an account to unlock 1 more articles