The Sweep: What the Speakership Fight Means for Congressional Campaigns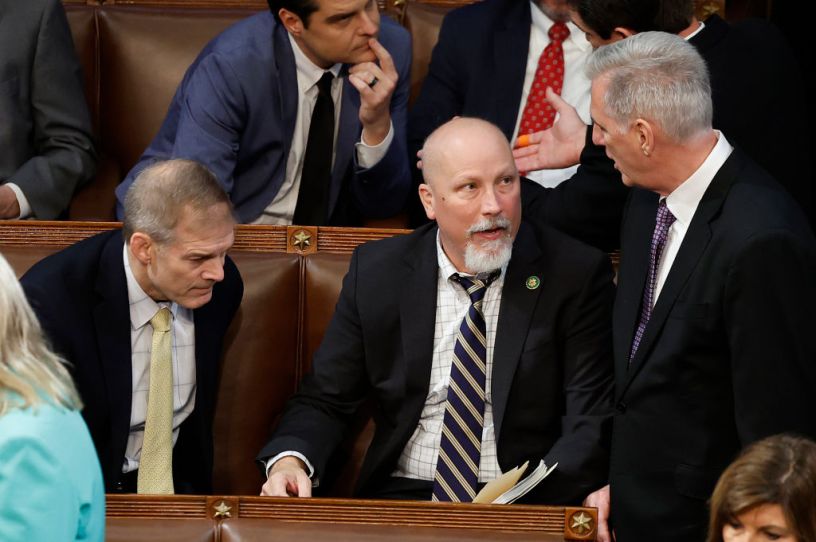 House Republican Leader Kevin McCarthy talks to Rep. Chip Roy and Rep. Jim Jordan during the second day of elections for speaker of the House. (Photo by Anna Moneymaker/Getty Images.)
Appetizer
Is bipartisanship cool again? Maybe.
Last week, Mitch McConnell and Joe Biden appeared together to tout infrastructure legislation that appropriated funds to fix the Brent Spence Bridge that spans the Ohio River between Cincinnati and Covington, Kentucky. Of course, the Joe Biden who ran for president in 2020 as a dealmaker sounded very different than the Joe Biden who said Republicans were in favor of Jim Crow 2.0 if they didn't support his voting reform bill in 2021. (Mind you, he had never actually reached out to any Republicans before he gave that speech. But what good are facts when they get in the way of some good, partisan rhetoric?) Which is all to say, Biden's presidency has been all over the map in terms of strategy. So when the White House says this type of event is its roadmap for the next two years heading into reelection, I'm more in the wait-and-see camp.
But that's not true of Mitch McConnell. Cocaine Mitch is the most brilliant political strategist alive. He is ruthless. He can see around corners. And he's almost always right. And there was Mitch McConnell standing next to Joe Biden as surely as Joe Biden was standing next to Mitch McConnell. Why?
Obviously, having the president in town to tout a home state win is helpful. But this is Kentucky. McConnell doesn't need help in a general election. Democrat Amy McGrath spent $90 million to lose by 20 points in 2020. If anything, he is more vulnerable in a GOP primary. But who are we kidding? Mitch "Thanks for Playing" McConnell is never, ever going to lose.