Democrats Will Decide Kevin McCarthy's Fate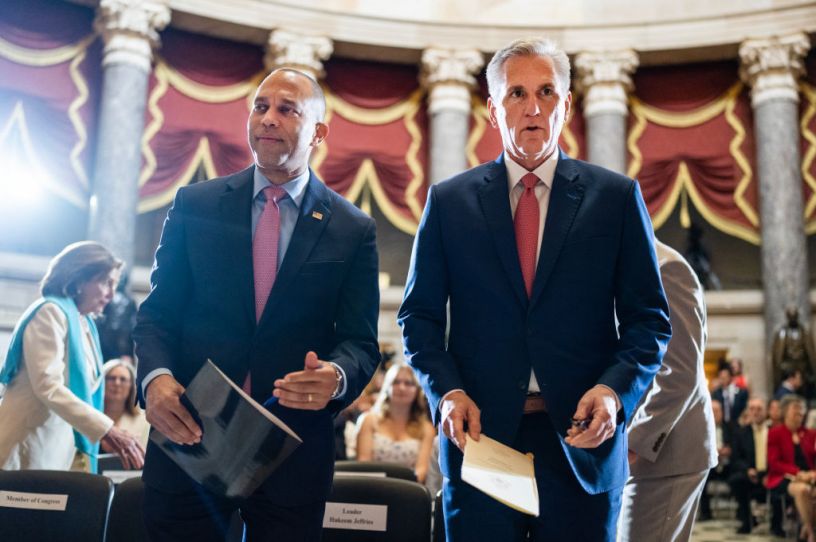 Speaker of the House Kevin McCarthy and House Minority Leader Hakeem Jeffries arrive at the statue dedication and unveiling ceremony for author Willa Cather in the U.S. Capitol's Statuary Hall on Wednesday, June 7, 2023. (Tom Williams/CQ-Roll Call, Inc via Getty Images)
For the first time in more than a century, the House is poised to vote this afternoon on whether to oust a speaker.
It's historic, but it's also hard to take completely seriously: Florida Rep. Matt Gaetz, who on Monday night introduced a resolution to remove McCarthy as speaker, openly admits it's largely a messaging exercise. Among other grievances, Gaetz is angry about McCarthy's deal with Democrats to fund the government through mid-November—and he wants to show that McCarthy will need to rely on the other party to hold onto power. Gaetz doesn't have a replacement in mind, he says. And despite reporting to the contrary, he isn't attempting to convince Democratic leaders to join his effort, he told The Dispatch. Those votes should come for free, he argued.
Rep. Tim Burchett, a Republican who says he's leaning toward voting with Gaetz, sounded like a defeated man before the resolution had even been introduced. "The reality is they'll kill it on the floor," he told reporters Monday night. "I mean, it's not going anywhere."
Still, nobody really knows how this week will unfold. McCarthy is projecting confidence, but the House can sometimes turn into the Wild West in the middle of a vote, and the math isn't on his side. He can lose only four Republican votes—a number Gaetz and his allies have already exceeded—if all Democrats are present and vote against him.
You're out of free articles
Create an account to unlock 1 more articles