What's At Stake in the Farm Bill?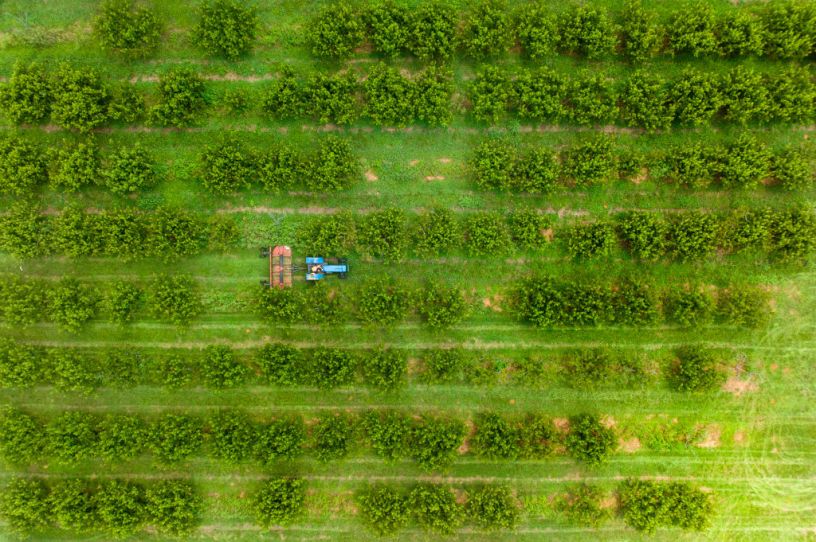 An aerial view shows a farmer driving a tractor through the barren peach tree orchard at the Gregg Farms in Concord, Georgia, on July 12, 2023. (Photo by JIM WATSON/AFP via Getty Images)
Members of Congress headed back to their home districts for August recess last week, but the clock is ticking on several programs with multiyear authorizations expiring at the end of September.
Farm bill reauthorizations carry a hefty price tag: Republicans on the Senate Agriculture Committee estimated in May that this year's bill could approve $1.5 trillion in mandatory spending over 10 years—though it's hard to know in advance just how large that number will be.
Most of those mandatory dollars are entitlements, like Medicare or Social Security, which will vary depending on the number of recipients and how much they are owed. The CBO's baseline projections for farm bill spending, which are adjusted each year, "can rise and fall over time based on changes in economic conditions, without action by Congress," according to the nonpartisan Congressional Research Service. Lawmakers aim to make each new version of the farm bill budget neutral, offsetting anticipated spending increases with corresponding cuts somewhere else.
Despite its large size and scope, the farm bill tends to fly under the radar, partly by design. The first modern farm bill passed in 1933 as part of the New Deal, providing subsidies to support financially strapped farmers during the Dust Bowl and the Great Depression. For four decades, the bill primarily focused on these farm subsidies each time it came up for reauthorization.
You're out of free articles
Create an account to unlock 1 more articles