DeSantis Is (Almost) Right About Libel Law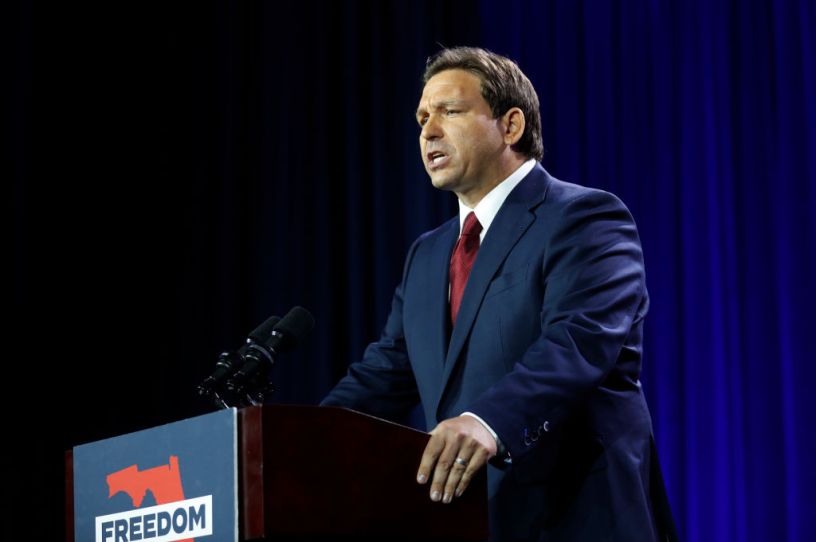 Florida Gov. Ron DeSantis. (Photo by Octavio Jones/Getty Images)
The New York Times dodged a bullet a while back in the Sarah Palin libel matter, and its publishers and editors know it, which is why a recent story is headlined, "DeSantis, Aiming at a Favorite Foil, Wants to Roll Back Press Freedom" a claim that—ironically, in this context—isn't quite right. Presumably, "freedom of the press" does not include the freedom to publish untrue and defamatory things about people, and DeSantis is taking up the cause of a small group of activists, including a few conservative legal scholars, who want to make it easier for people who have been misrepresented by the press to win libel judgments against newspapers and other media properties.
This hits close to home for the Times: The landmark Supreme Court case in the matter of libel is called New York Times Co. v. Sullivan, and the most recent big-time libel suit was Sarah Palin v. New York Times Co. Palin lost—wrongly, in my view—but is appealing.
The Times' misrepresentation of Palin should have been, liberated from the weight of political tribalism, an open-and-shut case. For this kind of claim in print to rise to the level of libel, it must meet three conditions: The claim must be false, the claim must be defamatory (meaning that it injures the reputation of the party in question), and, in the case of a public figure, it must have been made with "actual malice" or "reckless disregard for the truth." The Times libeled Palin by falsely claiming in an editorial that Palin's campaign rhetoric had led to the shooting of Rep. Gabby Giffords. "The link to political incitement was clear," according to the Times, a claim that is—and this matters in this context!—not true. There was no connection at all between the Palin campaign and the Giffords shooting, a fact that has been reported in and confirmed by, among other reputable journalistic sources, the New York Times itself. Even if we accepted at face value the extraordinarily tendentious claim that Palin's utterly normal campaign rhetoric constituted some sort of incitement to violence, the man who shot Giffords was not inspired by it and seems never to have even seen it before committing his crime.
The editorial in question was not about the Giffords shooting or about Palin: The swipe at Palin was inserted—with positively reckless disregard for the truth—solely for the purpose of taking a swipe at Palin, i.e., with the intent to damage her reputation and harm her political prospects. This was, very straightforwardly, libel. The the jury saw it otherwise is a reminder of the limitations of juries.
Get every newsletter and all of The Dispatch. Support quality, fact-based journalism.
Start Your Free Trial
ALREADY A PAID SUBSCRIBER? SIGN IN