Our Best Stuff From a Week That Had Plenty of Good, Bad, and Ugly
Curves are flattening even as the death toll increases. Plus, it's business as usual in Congress.
You know you live in "interesting times," as the Chinese curse puts it, when Bernie Sanders suspends his campaign to make way for Joe Biden to be the Democratic nominee and the news barely registers, serving mostly as a distraction from the one story that dominates our national attention. But here we are.
It was a weirdly mixed week for coronavirus news. President Trump warned last week that we were going to have a rough couple of weeks, and it started to show more than ever. We've reached the point where about 2,000 Americans are dying every day of COVID-19. Every. Single. Day. And those numbers are likely undercounting the actual number of deaths: Statistics out of New York show that exponentially more residents are dying at home as compared with normal times—200 a day as compared with 20 to 25—and those deaths aren't yet being recorded in the official tally.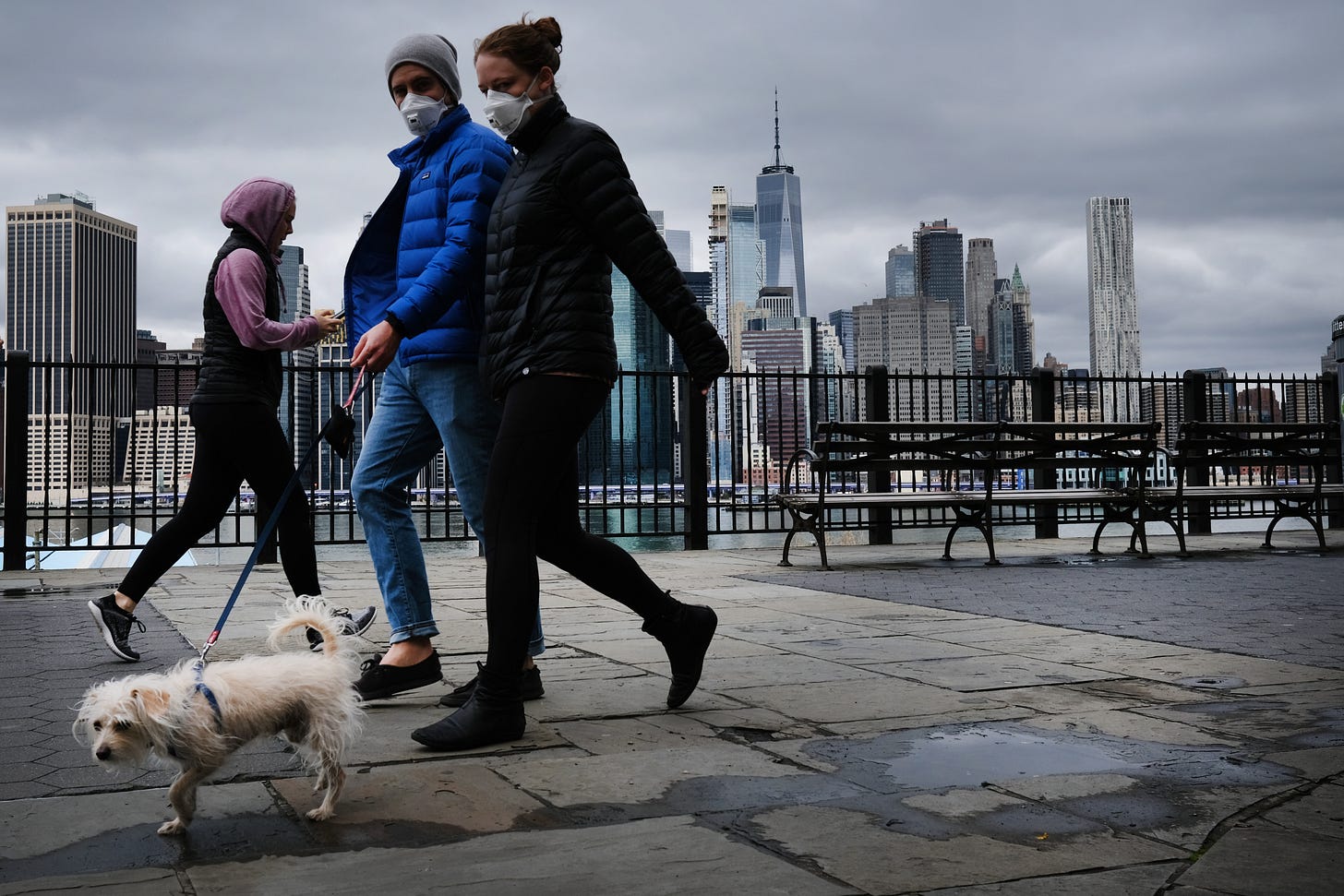 At the same time, there is evidence that New York, the epicenter of the pandemic, might be at its peak or even on the downslope as the number of hospitalizations and intubations level off. The Institute for Health Metrics and Evaluation (IHME), whose model is cited often by the White House and the media, revised its projections for the number of American deaths from 93,000 to 60,000, showing that social distancing and other steps we're taking are actually working. Special facilities set up in Washington state to take in COVID patients are shutting down. The Washington Post reported that the Cleveland Clinic had made plans to ramp up to 8,000 beds if needed, but treated just 150 COVID patients last week.
It's almost a cruel tease, though. Hope is a good thing. But the IHME model is based on social distancing and other measures being in place until early August. Even as more areas flatten their own curves, we're reminded that it works only if we keep on keeping on with containment measures.
And there's no flattening of the curve for our economy. Another 6.6 million Americans filed for unemployment. The Paycheck Protection Program, which accounted for $350 billion of the $2 trillion CARES Act, is running low on funds even as some small businesses struggle to find a bank or get their loans approved. Senate Republicans tried to pass another $250 billion for the program using unanimous consent (Congress is recessed until April 20), but Democrats wanted even more money for additional programs, causing a stalemate. Some things never change, even in a pandemic.
Some positive news to help us stay sane: Filmmaker Tyler Perry covered the grocery bills during "senior hour" at 73 stores across the Atlanta area and his native Louisiana. Major League Baseball is trying to cook up a shortened season that would abandon its traditional AL vs. NL setup in favor of a Cactus League (in Arizona) and Grapefruit League (in Florida), utilizing spring training facilities. And after a month with almost no live sports on TV, admit it: You're tuning into ESPN Sunday for the first round of the NBA HORSE challenge.
Now, on to our best stuff from the week.
When Capt. Brett Crozier was relieved of his command of the USS Theodore Roosevelt, it appeared to be an unfortunate situation all around: He seemed to believe he was doing the right thing to go outside of the chain of command to ask for help in dealing with a coronavirus outbreak, even if it cost him his job, and leaders of the U.S. Navy felt they had no choice but to take it from him. Then Thomas Modly, the acting secretary of the Navy, made a stunning address to the ship's crew, suggesting that Crozier "either too naïve or too stupid to be a commanding officer of a ship like this." David French, an Iraq war veteran, expressed concern for what it means about the state of the Pacific Fleet in his members-only newsletter. "American military dominance depends on military courage and competence even more than it depends on technological brilliance. As we watch the unfolding drama on the Theodore Roosevelt … Americans are right to be concerned." And Ward Carroll, a former naval aviator, analyzed Modly's behavior through the lens of the acting secretary's belief that he had the support of President Trump. Which he did, until he didn't.
When all of this is said and done, there will have to be some kind of reckoning for China, whose lies and distortions allowed coronavirus to become a widespread deadly pandemic that is wreaking havoc with the economy. But China had some help from the World Health Organization. Daniel Vaughan lays out how China has gained more influence in the organization and what steps can be taken to undo that.
It was a revelation that was shocking even if it seemed like yet another data point that fit into the established narrative that President Trump had reacted to slowly to the threat of coronavirus. Axiosreported earlier this week that top Trump adviser Peter Navarro had sent a memo in late January, warning about the coming coronavirus crisis and calling for containment measures, including a travel ban from China to help battle coronavirus. Navarro was prescient, so why was he ignored? Scott Lincicome suggests that Navarro's problem was that, as the administration's top trade restrictionist, he'd long urged President Trump to declare national security "emergencies" to further his own trade agenda. So when an actual emergency arose, his early warnings were seen as little more than continued cries of wolf.
And not in terms of a campaign slogan. Jonah noticed that Politico started one of its newsletters with a ranty, singsong lament that "the greatest country on planet earth" doesn't have enough PPE or ventilators, and a Congress that can't immediately pass a loan package for small businesses, etc. And Jonah warns that for a country to be "great" in that sense, it really needs an authoritarian ruler, and that freedom is messier. This leads him down two paths. One, he points out that Americans are both self-reliant and generous to others in need. And he also wonders why those who have been quick to call Trump a dictator for the last three years are complaining that he's not acting like enough of one now. 
Other highlights: