A History Lesson on Ramping Up Production of Critical Goods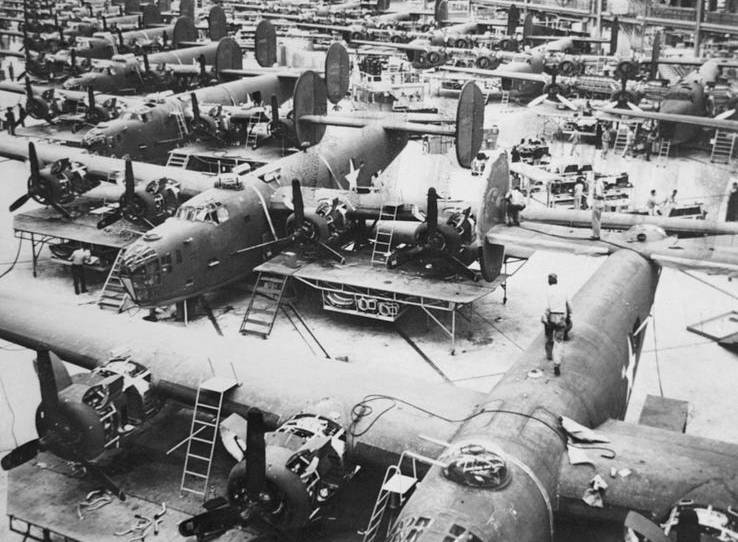 During this critical moment when there are looming shortages in medical supplies, especially ventilators, policymakers and executives are drawing inspiration from World War II-era wartime production. On Tuesday, the Trump administration invoked the Defense Production Act to speed the procurement of COVID-19 test kits. Auto executives like GM's Mary Barra and Tesla's Elon Musk are repurposing their factories to fight the ventilator shortage and reports abound of smaller firms finding ways to pitch in.
For low tech items, the private sector has responded by quickly shifting production from non-essential products, like whiskey and apparel, to essential ones, like hand sanitizer and face masks. But, for more complex medical devices, like ventilators, industry experts warn that policymakers and the public should be cautious in placing too much hope in the hands of companies inexperienced with medical device production. Ventilators are complex, expensive machines that rely on dedicated global supply chains. In normal times, getting regulatory approval for new machines requires years of testing to ensure reliability and safety.
Revisiting the history of airframe production during the early 1940s is instructive in helping us understand what would be required to ramp up ventilator production to levels experts predict could be demanded by the public health crisis. In May 1940, President Franklin D. Roosevelt called for the manufacture of at least 50,000 new planes per year, up from annual production of around 6,000 in 1939. Responding to the president's call, in January 1941 Ford Motor Company's Edsel Ford and Charles Sorenson visited the plant of Consolidated Aircraft, the designer of the B-24 bomber, to see how Ford could help. Sorenson concluded, audaciously, that Ford could transform the production of airframes from traditional, craft methods to modern assembly line methods and, in the process, increase the rate of production from one bomber a day to one bomber an hour.
Sorenson's prediction was eventually proven right. By mid-1944, Ford indeed was producing one B-24 per hour as promised. However, it took nearly 20 months from the time Ford won the military contract in February 1941 until it produced its first plane at its new plant in Willow Run, Michigan. And, even as late as February 1944, manufacturing at Consolidated Vultee—Consolidated Aircraft merged with Vultee Aircraft in 1941—was more efficient than Ford's assembly line. By the time that the Willow Run plant was operating at peak capacity, wartime demand for new bombers was already on the decline.
You're out of free articles
Create an account to unlock 1 more articles