A New Organization Enters the Battle Over Academic Freedom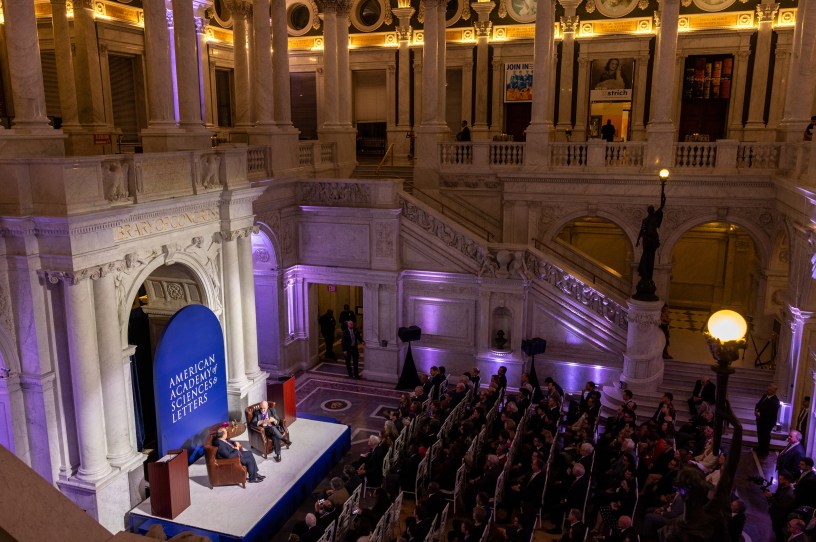 (Photo via American Academy of Sciences and Letters)
Proponents of academic freedom often have to decide: Will they champion their cause from within the traditional framework of American academia, or from outside of it? A recently launched academic society is trying to do both, working closely with the existing university system while also starting something wholly new.
The American Academy of Sciences and Letters (AASL) held its inaugural investiture last Wednesday, drawing a crowd of 150 people at the Library of Congress in Washington. Several well-known scholars and free-speech advocates—including Princeton University's Robert P. George and New York University's Jonathan Haidt—were among the 10 recognized with a $50,000 Barry Prize and inducted as the first official members of the AASL.
The AASL launch also featured a keynote interview with author Salman Rushdie. In one of his first public appearances since his near-fatal attack last year, Rushdie received the Robert J. Zimmer Medal for Intellectual Freedom, named for the longtime advocate of free expression and former president of the University of Chicago.
The campus censoriousness against which Zimmer fought has experienced a well-documented rise over the past few years. High-profile firings and disinvitations suggest that elite higher education has become too ideologically motivated, too weary of good-faith debate over controversial topics.
You're out of free articles
Create an account to unlock 1 more articles