American Security Through American Idealism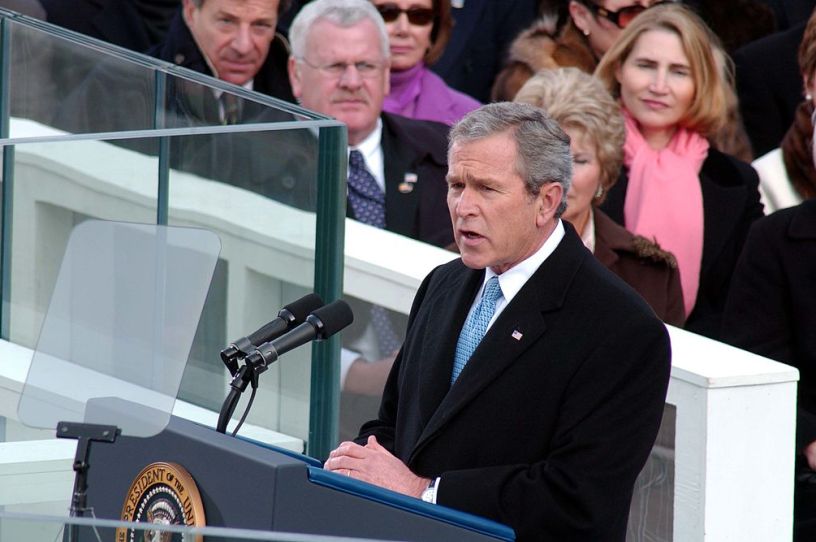 President George W. Bush delivers his inaugural address after being sworn in for his second term. (Photo by Scott J. Ferrell/Congressional Quarterly/Getty Images)
Last weekend, a memorial service was held for Michael Gerson at the National Cathedral in Washington, D.C. I never met him, but I often felt I was meeting a kindred soul in his many columns, in the book he co-authored about religion and politics, and in the speeches he wrote for President George W. Bush. I didn't know it at the time, but it was partly his voice I heard in one of the most remarkable speeches I've ever heard.
It was 35 degrees on the National Mall on January 20, 2005, one of the colder inaugurations on record. I arrived around 9 a.m. and spent hours elbowing my way, block by block, through several hundred thousand people gathered to watch Bush take the oath of office a second time.
Protesters were out in droves: black-clad anti-globalization protesters in ski masks; anti-war protesters dressed in orange prison jumpsuits reenacting the abuse scandals at Guantanamo and Abu Ghraib; and general left-wing anti-Bush protesters. I found my corral way back on the Mall, somewhere behind the reflecting pool, and stood shivering for an hour or more waiting for the ceremony to begin. The inaugural stand was a distant stage.
"I want this to be a freedom speech," Bush had told Gerson, then his chief speechwriter. Gerson later reflected in his memoir, "He was looking for a summary of everything that had come before, and a fully formed vision of the Bush foreign policy." Bush and Gerson succeeded. With unmistakable clarity, Bush called out and condemned the evils and dangers of tyranny—elevating the light of freedom by contrast with its opposite.