Can Emmanuel Macron Fix Lebanon?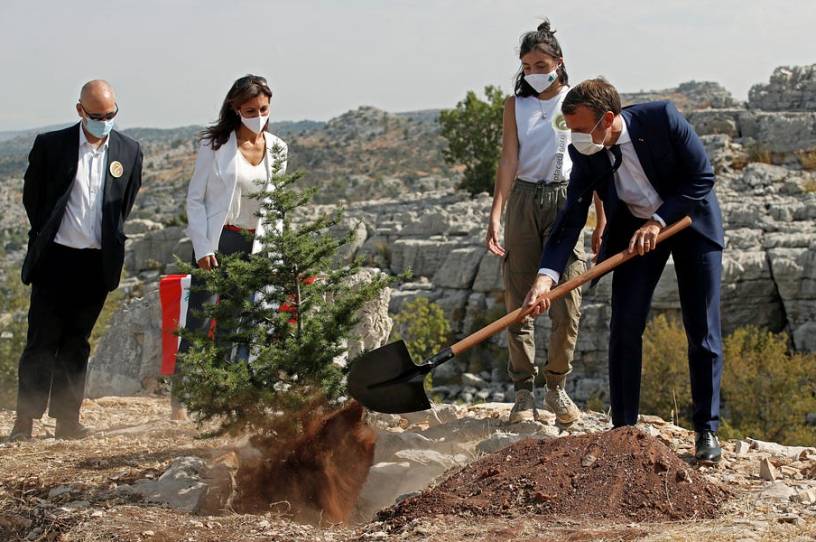 Lebanon celebrated a tense centenary on Tuesday, feigning unity as its citizenry and government alike continue to reel from the economic and political instability illuminated by last month's Beirut blast. While the footing of Lebanon's political elites remains tenuous, French President Emmanuel Macron stepped in to fill the vacuum created by the sectarian Lebanese government's lack of unifying leadership. Macron visited Beirut to plant a cedar tree—the emblem adorning the Lebanese flag—in a symbolic gesture denoting the revival of the Lebanese state. "When a country disintegrates, you never know when it will be reborn," he mused.
To push his policy of "rebirth," Macron offered Lebanon a choice: succumb to potentially irreversible financial ruin, or fully restructure the form and function of the current government. In exchange for implementing a series of French-directed reforms addressing issues as varied as COVID-19, corruption, elections, and energy, Macron agreed to lobby for desperately needed international aid to Lebanon at a donor conference to be held in Paris next month. "Lebanese people, you are like brothers to the French. I promised you: I will come back to Beirut to take stock of the emergency aide and help you build the conditions for reconstruction and stability," the French leader tweeted on Tuesday. Lebanon is currently seeking $20 billion in financial aid to recover its bankrupt economy and rebuild its capital after the devastating explosion that left tens of thousands of people homeless. But Lebanon's financial crisis predated the blast by more than two decades, and there are reasons to believe that Macron's efforts won't be universally well-received.
The country was experiencing a period of hyper-inflation in the early 1990s, and in an effort to draw international investment while also taming inflation, in 1997 the government took the rational but draconian step of pegging the Lebanese pound to the U.S. dollar. But between the conflict in neighboring Syria, Lebanon's failure to diversify its economy, and its severely mismanaged and corruption-riddled government, the Lebanese economy is in a downward spiral that makes daily life very difficult for its citizens. For example, according to a report by the United Nations, more than half of Lebanon now lives in poverty, and 23 percent live in extreme poverty. Protests are a regular occurrence in Beirut. And when stores of ammonium nitrate caught fire—resulting in the explosion that killed at least 190 people and wounded at least 6,000 more—renewed fury with the country's leadership spread rapidly. Prime Minister Hassan Diab resigned from his position in a flurry of scandal.
Lebanon appointed its new prime minister, diplomat Mustapha Adib, on Monday shortly before Macron's visit to Beirut. As a widely unknown former chief of staff and ambassador to Germany, Adib begins his tenure in a very difficult political environment. The new PM carries the weight of his status as one of Lebanon's despised political elites, but lacks the name recognition and public profile necessary to legitimize his position of authority in a fractured country that has proven difficult to govern for most of its existence.