Conspiracy Theories Spread Online About FEMA Emergency Alert Test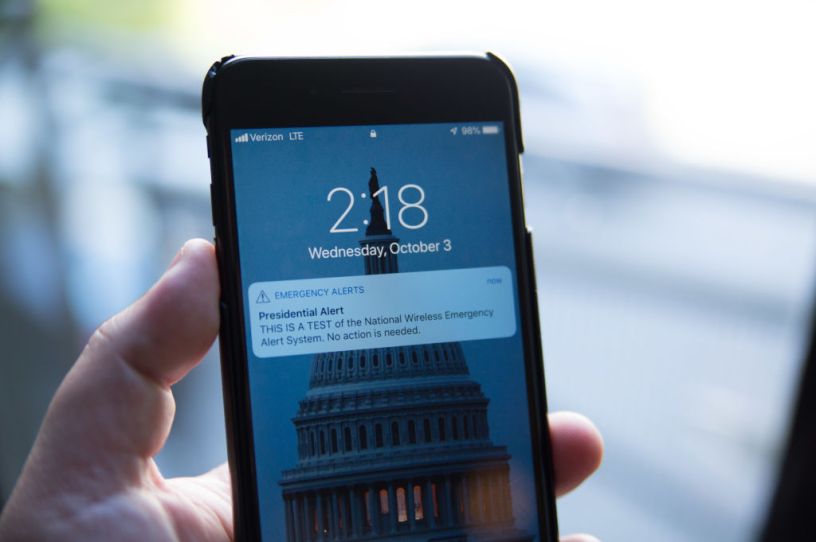 A notification is seen on a smartphone as FEMA tests the functionality of the Wireless Emergency Alerts system, October 3, 2018. in Philadelphia. (Photo by Michael Candelori/NurPhoto/Getty Images)
Halloween may come early this year as millions of vaccinated Americans risk turning into zombies following a nationwide test of FEMA's Emergency Alert System—at least according to some of the fringe conspiracy theories spreading about the agency's upcoming assessment plans.
The capabilities test, which was announced by the Federal Emergency Management Agency (FEMA) and the Federal Communications Commission (FCC) in August, will take place Wednesday at approximately 2:20 p.m. ET and involve both the Emergency Alert System (EAS) and Wireless Emergency Alerts (WEA). The EAS alerts will be broadcast on radios and televisions, and the WEA alerts directed to all consumer cell phones. According to FEMA, the message will read "THIS IS A TEST of the National Wireless Emergency Alert System. No action is needed." Seven nationwide EAS tests have taken place previously, but this will be just the second nationwide WEA test.
A range of conspiracy theories have emerged about the test, many of which build upon prior theories about the COVID-19 vaccines and assert that FEMA's broadcasts will trigger some kind of reaction in vaccinated Americans. According to some, nanoparticles included in the vaccine will be activated, while others claim that the culprit will be graphene oxide—a compound that the Associated Press previously refuted as present in the Pfizer vaccine. Another popular claim is that the alert will activate the Marburg virus, a rare but severe hemorrhagic fever virus similar to Ebola, in vaccinated individuals.
But not all conspiracies have centered around the COVID-19 vaccines. Some believe the tests may be linked to the Russian nuclear threat or be planned to take place concurrently with an unknown emergency event. Many posts claim to show how followers can disable their phones during the testing period, such as by double wrapping them in foil or placing them in a microwave or faraday cage.
"The sole purpose of the test is to ensure that the systems continue to be an effective means of warning the public about emergencies, particularly those on the national level" Jeremy Edwards, FEMA press secretary told The Dispatch Fact Check. Edwards also noted that federal law required FEMA to carry out a test of the systems every three years, and that the national tests and tones will be the same as those sent by more than 1,700 local, state, territorial, and tribal authorities through the Integrated Public Alert and Warning System. "FEMA is not aware of any adverse health effects caused by the audio signal," Edwards also noted.
If you have a claim you would like to see us fact check, please send us an email at factcheck@thedispatch.com. If you would like to suggest a correction to this piece or any other Dispatch article, please email corrections@thedispatch.com.