Crowd Madness Intensifies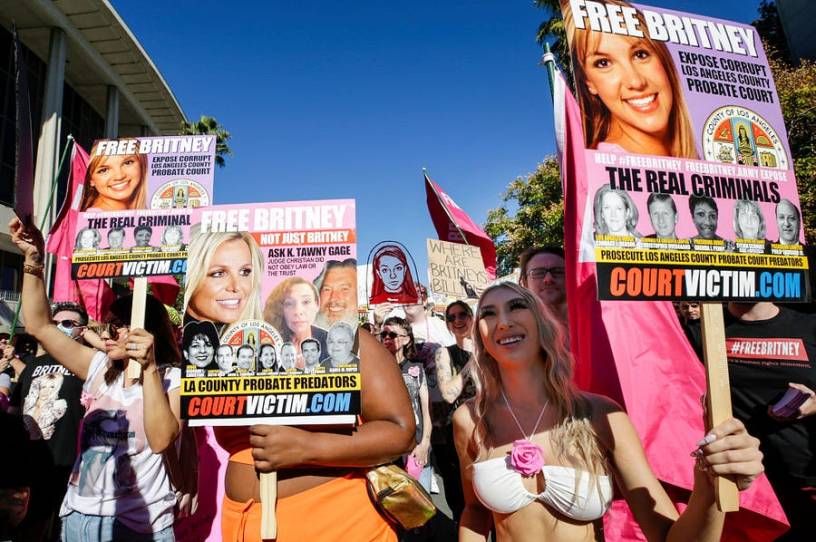 The slanting Southern California sun on Friday afternoon demanded sunglasses—the big, black kind favored by local women. And to make matters worse, the television news crew had set up with their backs to the glare for a better shot. So, when members of the crowd assembled on Grand Avenue in front of the Stanley Mosk Courthouse got their turn on TV, they had to choose between eye strain and anonymity.
The woman who left Rhode Island at 6 a.m. to be there chose celebrity over comfort. She pulled off her big black frames and squinted into the sun blasting over the Dorothy Chandler Pavilion. The reporter wanted to know why she had flown 2,500 miles to mill around with a collection of her fellow ecstatic obsessives in a city street between two grim government buildings. "To celebrate what this movement—what we—have accomplished," she said, brimming with emotion. "To be part of this moment. … Free Britney!!!"
The Rhode Islander said it was good to celebrate the end of the court-ordered conservatorship over the troubled, 40-year-old former child star and pop diva Britney Spears and her $60 million fortune. But another woman standing nearby wanted viewers to know that "the movement" must not stop there. This other woman, who made a sign to carry her message, said that she and her fellow pro-celebrity activists had to turn their energy to a larger cause and "end conservatorships for everyone." No word on what families of seniors crippled by dementia and Alzheimer's or younger adults with severe cognitive and psychological disabilities ought to do if they can't afford a Hollywood power lawyer to oversee a trust and "safety net."
The "movement" to end the conservatorship—known as a guardianship in most states—began soon after the star's multipart breakdown that culminated in 2008 with her psychiatric commitment following a four-hour standoff with police when she locked herself in a bathroom with her then 1-year-old son. That was after she shaved her head in public and a court forbade a Rasputin of a manager from any contact with Spears. While you might think that this is a very particular kind of Mouseketeer-turned-sexpot-turned-Vegas-lounge-act-with-mental-problems case, the members of the movement are not alone in their desire to turn Spears' saga into a, God help us, "larger conversation." The American Civil Liberties Union, not one to pass up any free clicks, agrees. No word either for the victims of mass killings and domestic murders committed by those who should be under court-ordered mental health restrictions but who so often slip through the cracks.
You're out of free articles
Create an account to unlock 1 more articles