D.C. Residents Divided Over Homeless Encampments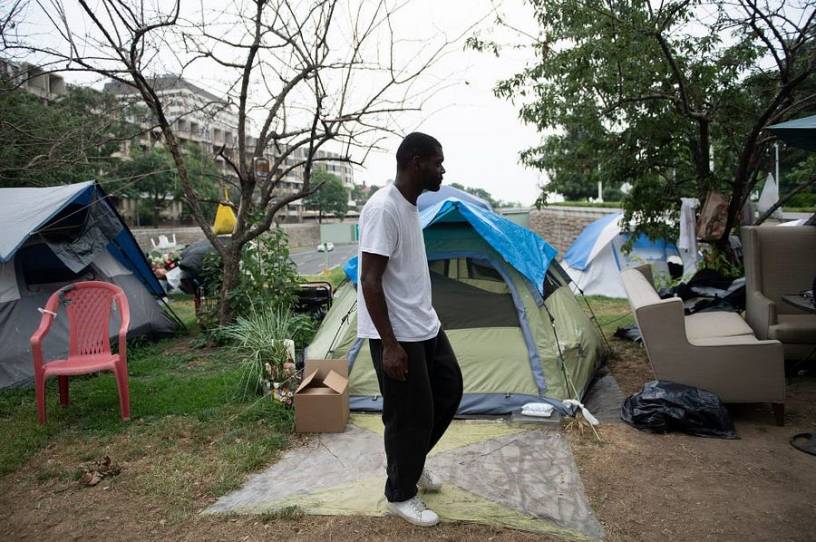 Over the last 18 months, the COVID pandemic has been accompanied by a series of fierce political battles over the policy measures put in place around the country to blunt the dangers of the disease. Thanks to the ongoing march of the vaccines (and barring the arrival of any more variants), the total-war phase of the pandemic may be at its end—but the next round of fighting over what to do with COVID policies now is just getting started.
One of these fights is currently playing out in Washington, D.C., over an issue that is fraught at the best of times: city (and federal) policies concerning homelessness. Camping on public land is illegal in D.C. But since the beginning of the pandemic, both city police and the National Park Service have stopped enforcing this prohibition, citing CDC guidance to "allow people who are living unsheltered or in encampments to remain where they are."
Now, as D.C. has begun moving slowly back to normal—the city recently extended Mayor Muriel Bowser's authority to keep the city in a state of emergency, but the official public health emergency has ended—the agencies involved have been remarkably silent on what's coming next.
If you've ever been to D.C., you've probably been struck by the city's cattywampus layout, which dates back to Pierre L'Enfant's 18th-century design: an irregular north-south and east-west grid crisscrossed by a network of long diagonal streets and traffic circles. One consequence of this layout was the creation of dozens of parcels of land too small to build on. Each of these small spaces is designated as federal parkland, and their upkeep is overseen by the National Park Service.
Keep reading with a free account
Create a free Dispatch account to keep reading
Get Started
ALREADY HAVE AN ACCOUNT? SIGN IN