DeSantis the Decider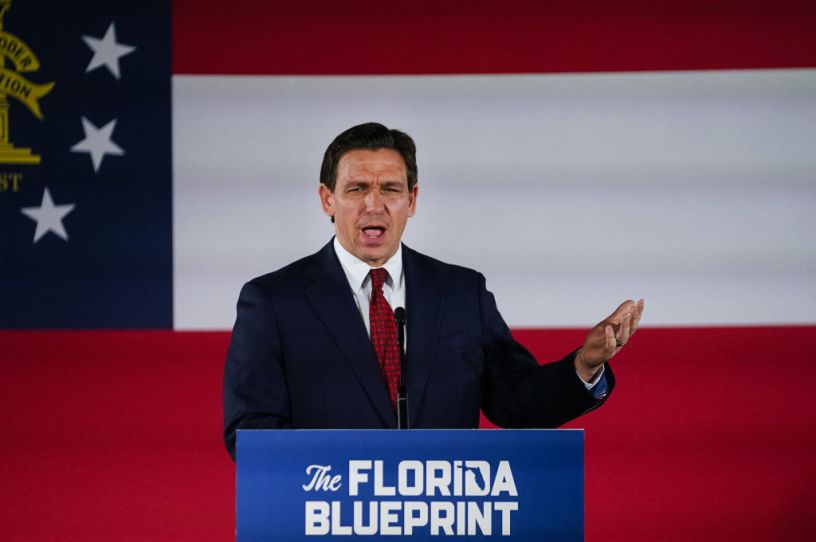 Florida Gov.Ron DeSantis speaks during an event on March 30 in Smyrna, Georgia. (Photo by Elijah Nouvelage / AFP) (Photo by ELIJAH NOUVELAGE/AFP via Getty Images)
TALLAHASSEE—In the early days of the COVID-19 pandemic, a Republican lobbyist was on the telephone with Gov. Ron DeSantis discussing his controversial decision to open hundreds of miles of Florida beaches even as the coronavirus spread throughout the United States. The press was skewering DeSantis; political opponents were calling him "DeathSantis." The lobbyist was worried.
Politically, the governor was on thin ice. At this initial stage of the outbreak, scientists and doctors were struggling to fully understand COVID-19. Even President Donald Trump was counseling Americans to stay home. Yet after DeSantis pored over data and consulted experts with a range of views about lockdowns, he concluded the virus would spread through the population regardless. Closing businesses and turning away tourists would only delay the inevitable—and destroy Florida's economy in the process.
The lobbyist, a DeSantis ally, recalled asking the governor during the call if he was sure he had made the right choice.
"And I remember what he said to me—I'll never forget it because it bore out to be true, but he said: 'I don't care what they say about me right now, I care about what they say about me six months from now,'" this Republican said. "He believed his reading of the data and his way of handling COVID was the right thing before anybody else did, and stuck with it regardless of the hits."