Will Donald Trump's Attacks Sink Ron DeSantis?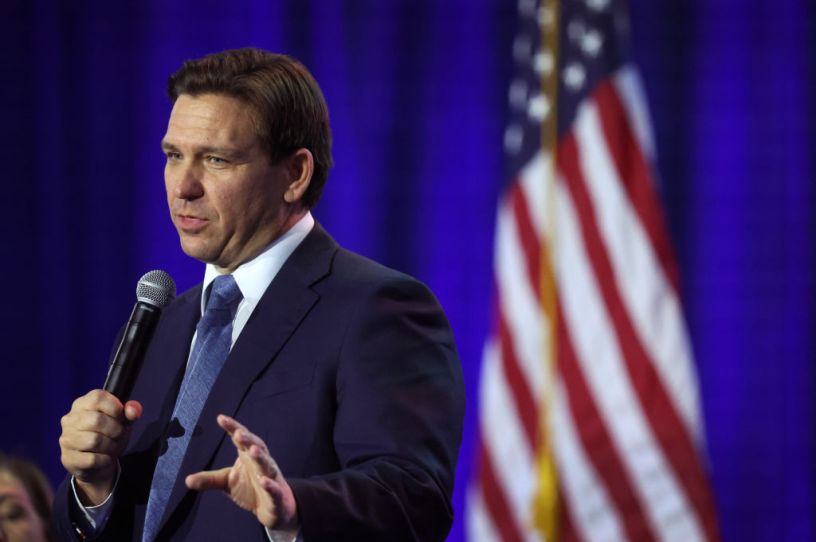 Florida Gov. Ron DeSantis speaks to Iowa voters on March 10, 2023. (Photo by Scott Olson/Getty Images)
Happy Monday! Our hearts are with the people of Mississippi, Alabama, Louisiana, and Georgia today as they try to pick up the pieces after a weekend of intense storms and deadly tornadoes.
Up to Speed
Former President Donald Trump kicked off his first official campaign rally of the 2024 election cycle in Waco, Texas, on Sunday. He rolled out his campaign priorities and lambasted political adversaries—namely Manhattan District Attorney Alvin Bragg and likely presidential primary challenger Gov. Ron DeSantis. The rally kicked off with video footage of the January 6 riot and Trump's recent song "Justice For All," which features the former president reciting the Pledge of Allegiance over a track of men imprisoned for storming the U.S. Capitol singing the national anthem.
Senate Minority Leader Mitch McConnell left inpatient physical therapy over the weekend, the Kentucky Republican said in a statement Saturday evening, after an early March fall left him with a concussion and fractured rib that required hospitalization. He'll work from home for "the next few days" before returning to the Capitol, the statement said.
Erin Perrine, who previously served as Trump's communications director during the former president's 2020 campaign, will join pro-DeSantis super PAC Never Back Down as the group's spokesperson, CBS News reports.
Republican Lt. Gov. Mark Robinson of North Carolina plans to announce his run for outgoing Democratic Gov. Roy Cooper's seat in late April, Axios reports.
Democratic Rep. Rho Khanna of California told CNN he will not run for retiring Democratic Sen. Dianne Feinstein's seat in 2024 and will continue to serve in the House. Instead, the California progressive will endorse Democratic Rep. Barbara Lee and co-chair her campaign. Democratic Reps. Adam Schiff and Katie Porter are also running for Feinstean's seat.
Michigan Democratic Secretary of State Jocelyn Benson said in a video announcement Friday she will not run for retiring Democratic Sen. Debbie Stabenow's seat in 2024, all but clearing the Democratic primary field for declared candidate and U.S. Rep. Elissa Slotkin. Lt. Gov. Garlin Gilchrist and state Sen. Mallory McMorrow—two other high-profile Democrats who were also considered strong potential Democratic challengers—have also said they won't run for Stabenow's seat.
Can DeSantis Handle Trump?
TALLAHASSEE—Here in Florida's capital, Ron DeSantis is practically indestructible. What the governor wants, the governor gets. Even doubters—the Republicans among them, anyway—offer grudging respect for the political heights he commands and the policy accomplishments he's notched in little more than four years.
But none of that will amount to much beyond a thumbnail biography in the history books if he can't figure out how to take on a certain other Florida man. Even some of the governor's ardent admirers hesitate when asked whether DeSantis can handle Donald Trump.
"Can anyone handle Trump? I mean, he's a master at dismantling people and he's incredibly good on the debate stage," a Republican operative supportive of DeSantis told The Dispatch last week, requesting anonymity to speak candidly. "I think he can. … If he decides to run, he's going to have to."