Ditch Mitch?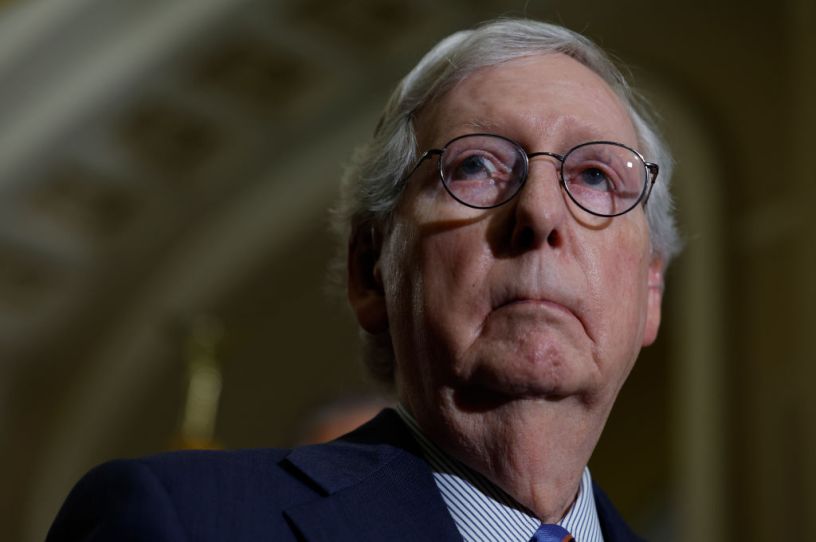 Senate Minority Leader Mitch McConnell (Photo by Anna Moneymaker/Getty Images.)
A vocal minority of Republican senators continued their push Monday to stall the election of party leadership in the wake of the GOP's underwhelming performance in midterm elections. The debate could fracture the party into two camps: those who blame current GOP leadership for last week's midterm results and those who blame former President Donald Trump.
The senators pushing for delay—in a process that typically amounts to little drama—have given a variety of reasons for their position. Some say they want Republican Senate candidate Herschel Walker to have a say in the process should he defeat incumbent Democratic Sen. Raphael Warnock in Georgia's December 6 runoff. Others are taking aim at Senate Minority Leader Mitch McConnell and other party leaders for the Senate Leadership Fund's (SLF) midterm spending decisions and declining to release a concrete policy agenda for candidates to run on in the midterms, among other concerns.
As of Monday evening, at least 10 Republican senators were calling for a delay.
"What do we stand for? What are we hell-bent to get done?" Florida Sen. Rick Scott, chairman of the National Republican Senatorial Committee (NRSC), asked on Fox News over the weekend. "The leadership in the Republican Senate says, 'No, you cannot have a plan. We're just going to run against how bad the Democrats are.' And, actually, then they cave into the Democrats."