GOP Senators Slow to Back Rick Scott's 'Rescue America' Agenda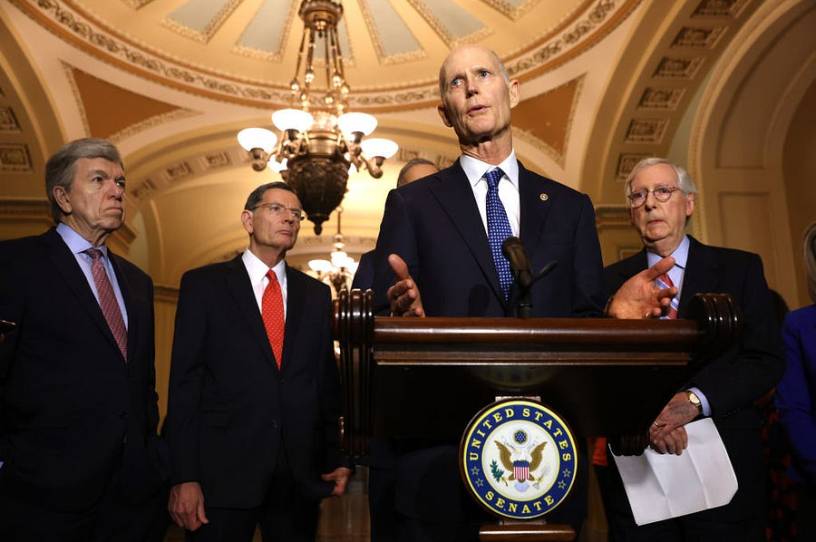 President Joe Biden's State of the Union address Tuesday evening highlighted one of the biggest dilemmas Senate Republicans will face ahead of the midterms: whether to unveil a concrete GOP agenda before Election Day or simply let the Biden administration's legislative record and poor approval ratings speak for themselves. 
GOP Sen. Rick Scott of Florida is advocating the former, and unveiled last week an 11-point "Rescue America" plan detailing a slate of legislative issues Republicans should focus on moving forward. "The American people are very likely to put Republicans in control of the Senate and House in 2022," Scott wrote in a letter introducing his plan. "But then, what? If Republicans return to Washington's business as usual, if we have no bigger plan than to be a speed bump on the road to America's collapse, we don't deserve to govern."
But his plan isn't gaining any traction so far with GOP leadership, at least not publicly. "If we're fortunate enough to have the majority next year, I'll be the majority leader; I'll decide in consultation with my members what to put on the floor," Senate Minority Leader Mitch McConnell told reporters Tuesday when asked about Scott's plan. 
Most Republican senators interviewed by The Dispatch this week side with McConnell, saying in interviews that their conference should hold off on releasing an agenda and instead highlight areas where the Biden administration is falling short of voters' expectations.