Donald Trump's RICO Nightmare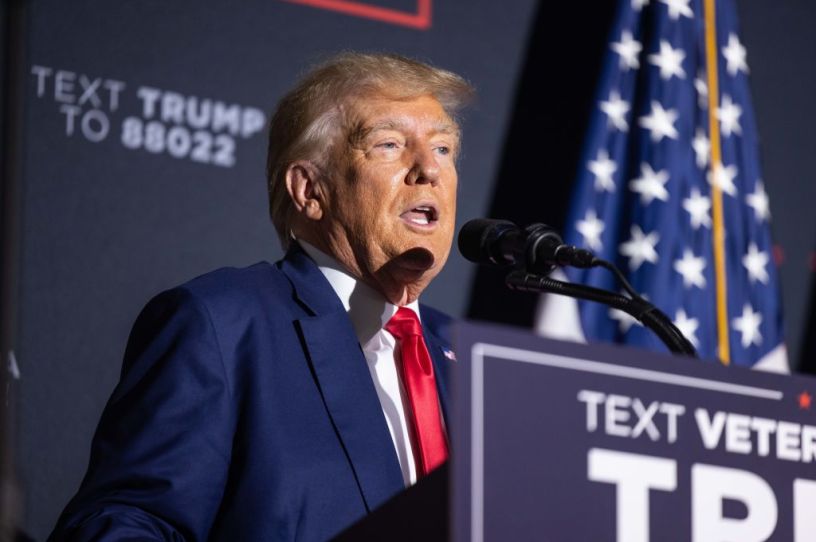 Former President Donald Trump delivers remarks at Windham High School on August 8, 2023, in Windham, New Hampshire. (Photo by Scott Eisen/Getty Images)
There is much to recommend the sprawling 98-page indictment that came out of Fulton County, Georgia, late Monday night. It is meticulous. It is detailed. It presents a narrative of an alleged criminal enterprise that takes the reader on a step-by-step journey around Georgia (and several other states and D.C.) to detail how President Donald Trump and 18 other people tried in concert to keep him in office even though he had lost the election. And District Attorney Fani Willis certainly knew that Count 1 would get everyone's attention, because this indictment doesn't just include plain old criminal conspiracy (although there are several of those alleged), this one alleges a RICO conspiracy, too.
The difference between the two is not obvious. First, criminal conspiracy occurs when two or more people agree to break the law, and then one or more of them act to further their agreed-upon criminal objective. If my friends and I plot to rob a bank, for example, and then I go buy us ski masks to use during our robbery, we can be prosecuted for conspiracy to rob the bank—even if we never actually go through with it. And even though, ordinarily, buying ski masks is a perfectly legal thing to do, the agreement to do a crime, plus my step in furtherance of that crime, is the crime itself. And my step in furtherance—buying the ski masks—also just got my friends on the hook for the conspiracy even if they did no more than agree to the plot.
RICO conspiracy is a different animal. Georgia's Racketeer Influenced and Corrupt Organizations Act is modeled a great deal on the federal RICO law, which was created in 1971 to deal with the ever-vexing problem of prosecuting organized crime, by which I mean the business of crime. As the power of various criminal elements has ebbed and flowed over the years, RICO's usage has evolved from its original intent—going after the mob—to address other hard-to-prosecute groups like biker gangs, street gangs, sex trafficking rings, and teachers. (More on the teachers later; I promise it's relevant.) For a RICO prosecution, the crime is joining the "racket" or, to use the legal term, the "enterprise," through "a pattern of racketeering activity." Racketeering activity means crimes like murder, arson, and bribery, but also—more to the issues we care about this week—forgery, false statements, witness intimidation, and perjury.
Wrapping all of that together, a Georgia RICO conspiracy occurs when two or more people agree to participate in an enterprise through a pattern of racketeering activity. Unlike for regular conspiracy, the prosecutor doesn't have to show there was an agreement between the participants to commit a particular crime. Instead, she must show there was an enterprise and that each defendant knowingly and willfully agreed to participate in the enterprise through racketeering. Whether the various participants even knew one another doesn't matter. What matters is the enterprise and the racketeering acts.
You're out of free articles
Create an account to unlock 1 more articles