Europe Has Its Own Vaccine Mandate Woes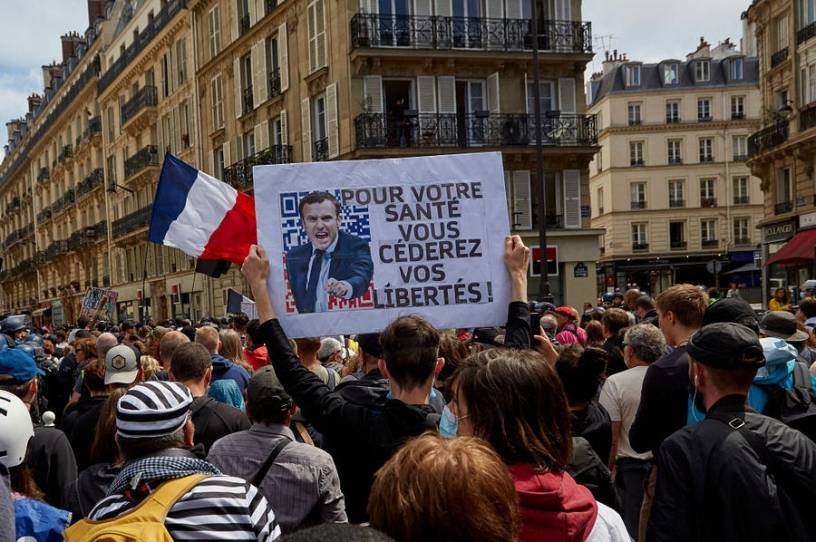 "Non au pass sanitaire!" The signs in the streets of Paris speak a clear language—"No to health passes"—as thousands opposed to the government's implementation of COVID-19 health passes descend on the streets. More than 200,000 people nationwide have protested on a weekly basis against measures that prevent those without a valid QR code from entering restaurants, bars, and health care facilities, or using trains, buses and planes. Even outside dining is subject to rules, and in recent days, videos have circulated social media showing French police officers checking the passes of customers on terraces around the country. 
French President Emmanuel Macron has responded to the protests by hosting Instagram livestreams, answering questions, and encouraging citizens to be vaccinated (to date, about 35 million French residents have been fully vaccinated, out of a total population of 67 million). Secretary of State Clément Beaune told a French news channel that "We must not give undue importance to a violent minority." But as the protests expand in size as restrictions on unvaccinated people increase, the government rightfully fears a "Yellow vest" style movement that could take much bigger proportions.
Much like the European Union's interoperable COVID-19 passport, the French health pass allows citizens to go about their business in three scenarios: having been vaccinated by European Medical Agency-approved vaccines, having recently been tested for the virus, or having recently recovered from COVID-19 (the standard length in Europe is three months since the certified beginning of the infection).
In Germany, Chancellor Angela Merkel's suggestion that vaccine passports might go beyond pubs and bars and become the norm for most public activity has sparked protests across the country. The protests themselves have been deemed illegal because organizers were unwilling to agree to the mandatory COVID mitigation requirements. Still, in a recent protest in Berlin, 5,000 people participated, 600 of whom have been arrested.