Explainer: Why Is the GOP Fighting Universal Mail-In-Voting So Hard?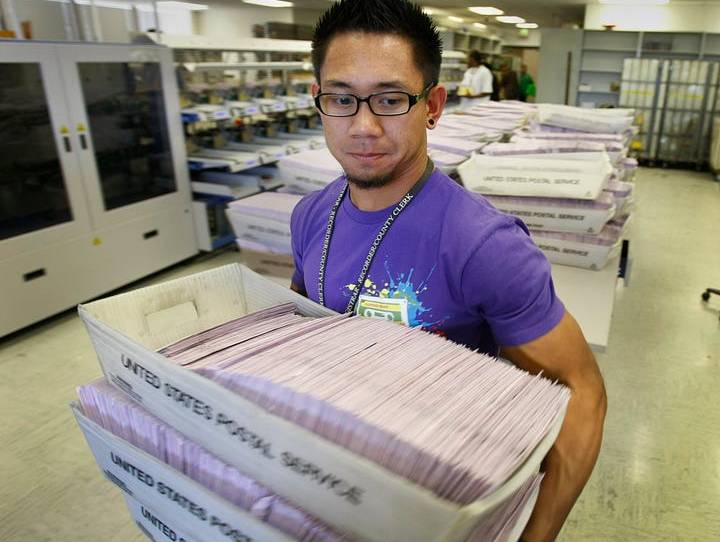 On Monday, Nevada passed a bill that will send official ballots to all registered voters in the state before the presidential election this November. This marks the eighth state—in addition to D.C.—to adopt universal, unsolicited mail-in voting for the election over pandemic concerns. President Trump immediately threatened to sue Nevada—a key battleground state—in response to the order. But Nevada's universal vote-by-mail law is just the tip of the proverbial iceberg. From California to New York, the Republican National Committee has been suing states for months now and even recently doubled its funding efforts to bolster new litigation efforts across the country.
After passing in Nevada's Democratic-controlled state legislature, the bill was signed into law Monday afternoon by Democratic Gov. Steve Sisolak. "Today, I signed AB 4, which ensures protections for Nevadans to vote safely at the November election during the pandemic," Sisolak tweeted Monday. "During this global pandemic, I made a commitment that we'd do all we can to allow Nevadans to safely cast a ballot in the upcoming November election."
Given his penchant for criticizing mail-in voting in recent months—and his recent suggestion that we should consider delaying the election over universal mail-in voting concerns—it came as no surprise that Trump immediately criticized the move. 
This isn't an empty threat: The GOP is currently litigating in 19 states over election laws that institute universal mail-in voting, no-excuse absentee ballots, and/or other election laws that Republicans believe jeopardize the integrity of our democratic system. The Republican National Committee recently doubled its legal budget to $20 million—after an initial commitment of $10 million in February—to challenge statewide election laws. 
You're out of free articles
Create an account to unlock 1 more articles