F-16s Raise Questions about the Future of Ukraine Aid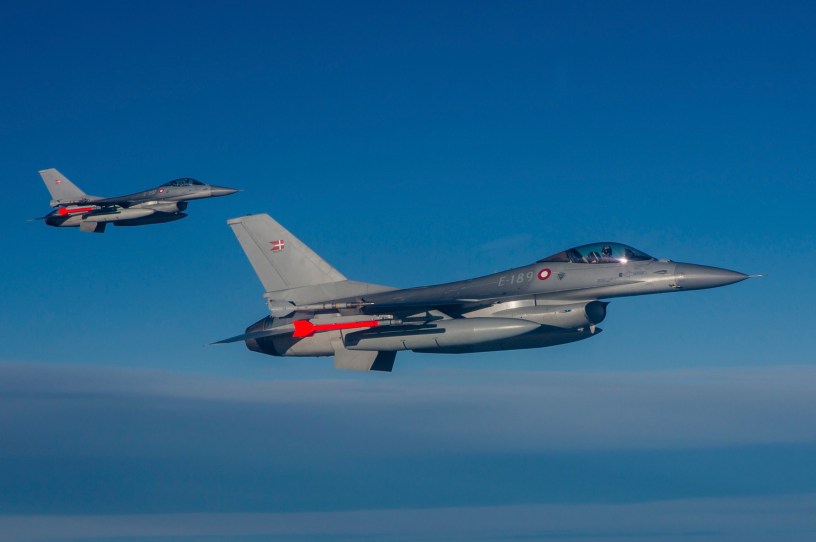 Danish Air Force F-16AM jet with live missiles during an Air Policing mission. (Getty Images)
After sitting on Ukraine's requests for months, the Biden administration reversed course last week by formally greenlighting the transfer of F-16s to the war-torn country from Denmark and the Netherlands' arsenals. On Thursday, Norwegian Prime Minister Jonas Gahr Stoere announced plans to do the same. Ukrainian President Volodymyr Zelensky has welcomed the news, but analysts say the yearlong delay in allowing the U.S.-made aircraft to reach the battlefield—a process likely to take months—risks prolonging the conflict at a crucial juncture. 
That's bad for Ukraine's current prospects, but could be even worse for its future ones: U.S. concerns about such a stalemate have only emboldened the growing isolationist faction within the Republican Party, which is threatening to cut off additional aid to Ukraine and push Kyiv to accept a peace deal that some fear may favor Moscow.
The stark divide over the issue within the GOP was clear in Milwaukee Wednesday night, as 2024 hopefuls clashed on the value of continued military assistance to Ukraine in its fight against Russia.
"We are protecting against an invasion across somebody else's border when we should use those same military resources to prevent an invasion of our own southern border here in the United States of America," said Vivek Ramaswamy, a biotech entrepreneur. "I find it offensive that we have professional politicians out on the stage that will make a pilgrimage to Kyiv—to their pope, Zelensky—without doing the same thing for people in Maui or the south side of Chicago or Kensington."