Fact Check: Are 'White Women' the Greatest Threat to World Peace?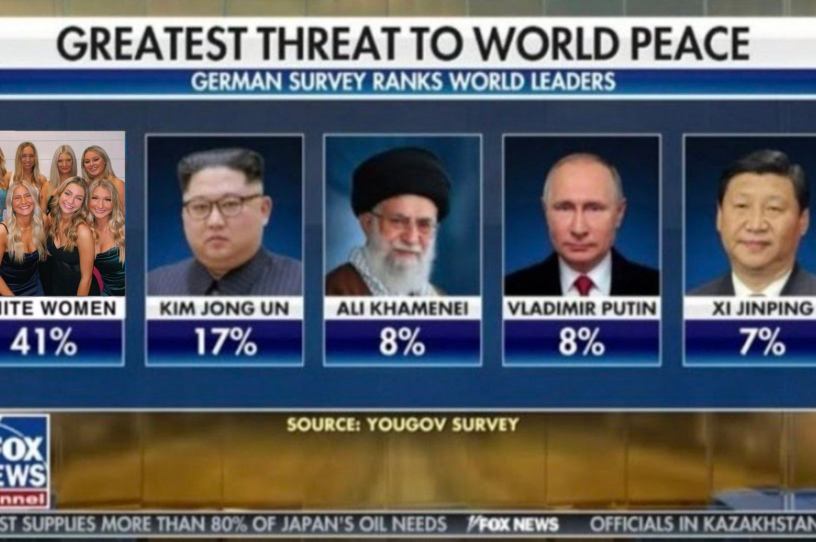 A digitally altered image based on a Fox News graphic.
A screenshot of a Fox News graphic circulating online has been digitally altered. The image purports to show a poll conducted in Germany by data analytics firm YouGov that asked respondents for their opinion on the greatest threat to world peace.
A Fox News spokesperson has confirmed to The Dispatch Fact Check that the graphic is fake. 
The fake image identifies white women as the greatest threat to world peace according to 41 percent of respondents, followed by North Korean dictator Kim Jong-un at 17 percent, Iranian dictator Ali Khameini tied with Russian President Vladimir Putin at 8 percent, and, finally, the Chinese Communist Party Chairman Xi Xinping at 7 percent.   
The authentic graphic appeared during a Fox News broadcast in 2019. The YouGov poll of German respondents is authentic, as are the percentages shown under the images of Kim, Khameini, Putin, and Xi. However, the most frequent response given according to the real survey at 41 percent was in fact Donald Trump, whose name and image appears on the leftmost panel of the authentic graphic.
If you have a claim you would like to see us fact check, please send us an email at factcheck@thedispatch.com. If you would like to suggest a correction to this piece or any other Dispatch article, please email corrections@thedispatch.com.